April 8, 2016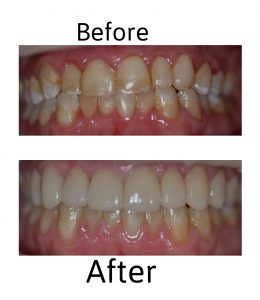 Veneers are a common cosmetic procedure used to correct the appearance of your smile. When placed on the front side of the teeth, certain cosmetic flaws are hidden to give the smile a more attractive appearance. Advancements in cosmetic dentistry now allow various types of veneers to be used, including traditional veneers and no prep or minimal prep veneers. At Enclave Dental, we offer traditional, minimal and no prep veneers in Southlake to instantly transform your smile.

Achieve a New Smile with Veneers
When your smile is negatively impacted by dental flaws, such as chips, cracks, misshaped teeth, discoloration, and minor alignment issues, veneers offer the simple solution to hide the flaws. Veneers are made from a thin material that acts as a false front, which is attached to the front side of the teeth. Using the false fronts, your cosmetic dentist will correct the size and shape of your teeth for a truly polished look. Made from strong durable material that naturally reflects light, you'll benefit from an instantly attractive smile that closely mimics your own natural teeth.
Traditional vs. No Prep Veneers in Southlake
The process to receiving veneers is very noninvasive and often no sedation or anesthesia are required. However, when traditional veneers are used, a small amount of enamel needs to be removed from the tooth's surface to create a strong bond. In some cases, the amount of tooth structure removed can extend past the enamel or the outermost layer of the tooth. While a very minimal amount of enamel is removed, it still requires a reduction of the tooth's structure.
When minimal prep or no prep veneers are used, less of the tooth's structure is modified. With minimal prep veneers, we will remove as little of the tooth's surface as possible. In some cases, we may not even have to remove any enamel at all. Instead, the veneers are placed directly onto the teeth without needing to modify the tooth in anyway.
To determine whether or not no prep or minimal prep veneers are an option, the health and structure of the tooth will be evaluated. If you're a candidate for the less invasive veneers, you'll achieve the same amazing benefits as with traditional veneers while repairing chipped or cracked teeth, minimal discoloration or staining, and small gaps between the teeth. This type of veneer can also be used to correct tooth shape abnormalities, minor alignment issues, and even teeth that are slightly crowded. In many cases, no prep and minimal prep veneers are used to improve the appearance of worn teeth or small teeth by increasing the size of the tooth.
Choosing No Prep and Minimal Prep Veneers
With a wide array of veneers available, you will need the help of your cosmetic dentist to determine which method will be best for you. After a thorough evaluation, we'll create a customized treatment plan to give you a radiant smile while keeping as much of the tooth's integrity intact as possible.
If you're ready to transform your smile, call Enclave Dental today at (817) 803-5816 to schedule a consultation.
Comments Off on Benefit from Minimal and No Prep Veneers in Southlake
No Comments
No comments yet.
RSS feed for comments on this post.
Sorry, the comment form is closed at this time.