Meet Preetha Thomas
DMD, FAGD, AIAOMT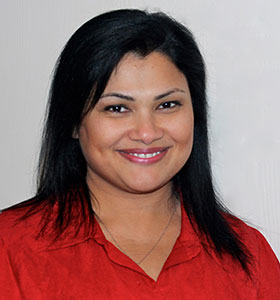 Dr. Preetha Thomas received her DMD Degree from the Advanced Standing Program at Harvard School of Dental Medicine in Boston. Her clinical training includes rotations in the Maxillofacial Oral Surgery Department at Massachusetts General Hospital and at Boston Children's Hospital. She has completed advanced training in oral pathology at Brigham and Women's Hospital.
Before her education in the U.S., Dr. Thomas obtained her Bachelor of Dental Surgery (BDS) and later her Masters in Orthodontics and Dentofacial Orthopedics (MDS) in India. She has lived in Massachusetts with her family for over ten years. During her career here she has worked both in public and private sectors. She was the Dental Director at the Holyoke and Chicopee Health Centers for several years. She worked as Clinical Instructor in the Department of Restorative Dentistry and Biomaterial Sciences at Harvard, Tufts and Boston Schools of Dental Medicine. She also held the position of Consultant Faculty with the Lutheran Medical Center in New York and for the AEGD Residency Program at the Holyoke and Chicopee Health Centers. During her time at Harvard she was actively involved in providing oral health screening and education for homeless adults in Boston. Dr. Thomas was an Associate dentist to Dr. Binca Warren and later Dr.Teddi Olszewski at Northampton Family and Cosmetic Dentists in Massachusetts.
In 2013, Dr. Thomas moved to Keller, Texas. She worked alongside Dr. Stacy Cole at Clear Fork Healthy Dental. Her passion for dentistry and her curiosity for biologic dental care took her to the next level that she was striving for. Dr. Thomas is looking forward to bringing her experience in private, public and academic settings to her office at Enclave Dental.
Over the past years of her career, she has completed hours of continuing education credits. She believes in keeping herself updated in her field so that she can provide the best service to her patients who entrust their care to her. She has finished 200 hours of CE with Garetty Orthodontics. She has taken hands on courses with Dr. Gordon Christenson. Dr Thomas is a FAGD dentist. Earning Fellowship takes dedication to dental continuing education (CE) beyond graduation which only 6 percent of general dentist in U.S. and Canada accomplish. To attain this distinction of an AGD fellow she had to complete over 500 credit hours of CE which 350 were credits in live courses and pass an exam equal in difficulty to the board certification exams.

She is an active member of AACP, ADA, TDA and the Fort Worth District dental society. She is also an accredited member of IAOMT and follows their protocol for safe mercury removal. Our office is mercury free and mercury safe!
Outside of work, Dr. Thomas is busy raising three kids with her husband of 21 years. Her older son, Jonathan, is attending Texas A&M studying finance. Her younger kids are Zachary and Hannah who are in ninth grade and fifth grade, respectively, and attend high school and middle school at KISD. She and her husband are actively involved in their church as life group leaders and Sunday school teachers. She loves being a mom just as much as she loves being a dentist. She is looking forward to extending her knowledge of dentistry and her love for God to people walking into Enclave Dental.
Memberships