Cosmetic Dentist in Southlake, TX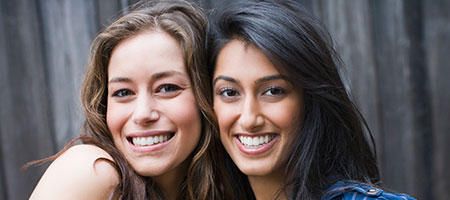 Maintaining a healthy smile is crucial, but enjoying a beautiful one is just as important to many patients. That's why Dr. Preetha Thomas and her team at Enclave Dental offer several cosmetic dentistry services designed to erase troublesome flaws and transform your teeth for the better in simply stunning ways. Stains, chips, cracks, gaps, and much more can be seamlessly overcome right here in the sophisticated comfort of our Southlake, TX, dental spa. We can't wait for you to see the results we can create!
All-Ceramic Dental Restorations
Dr. Thomas strongly believes in the power of dental solutions that promote both natural, overall wellness and gorgeous aesthetic value. That's why her fillings, crowns, inlays, onlays, and other restorations are made from nonmetal, biocompatible materials that can be flawlessly integrated into your natural smile, resulting in a gorgeous look you can feel proud of. Better yet, their conservative nature allows us to preserve as much of your original tooth structure as possible, which is ideal for your oral health.
Teeth Whitening
Enamel discoloration can be caused by a wide variety of sources, including age, certain foods and drinks, and even particular types of medication. If you've been struggling with a smile that just isn't as bright as it used to be, please visit our Southlake practice. Patients with busy schedules can achieve the immediate results they've been dreaming of with our in-office teeth whitening procedure, which can lighten your teeth by several shades in just a single appointment. Customized take-home whitening kits are also available if you're interested in a more gradual change. They can be used at your convenience in the comfort of your home and typically produce the most dramatic results to your smile in one to two weeks.
Porcelain Veneers
Facing several dental flaws in the mirror every morning can be overwhelming, especially when you don't have the time or budget to undergo several cosmetic services to have them all fixed. Wouldn't it be nice if you could essentially give your teeth a do-over? Veneers can make this goal a reality for many patients! Crafted from beautiful, wafer-thin dental porcelain, veneers can be precisely matched to your unique smile and preferences – you can even alter the shape and size of your teeth, if you'd like! They're then placed securely over your existing smile, effectively erasing any and all problems behind a new, polished look. Your satisfaction is important to us, and Dr. Thomas won't rest until you're completely happy with your new look.
Contact Enclave Dental today to schedule your first appointment! Dr. Thomas and her dental team are dedicated to making your experiences with us exceptional through our relaxing spa environment, our wide variety of services, and our wholesome approach to natural, conservative care. Located in Southlake, TX, we're happy to also welcome patients from Trophy Club, Fort Worth, Colleyville, Keller, and beyond.