Our Sedation Dentistry Services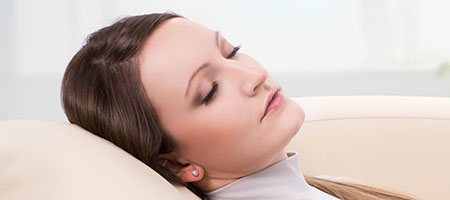 Fear of the dentist is a common phobia, as are feelings of nervousness and anxiety when faced with an upcoming appointment. At Enclave Dental in Southlake, we care about your comfort, which is why Dr. Preetha Thomas has created a natural spa environment for her patients where they can truly lie back and relax while our team takes care of their oral health. But what if that isn't enough? With the help of a licensed anesthesiologist, we're happy to offer patients sedation dentistry as well, which can take the edge off of those unpleasant feelings and help you finally achieve the optimal smile you deserve – no fear required!
Nitrous Oxide
If your dental anxiety is relatively mild, nitrous oxide could be the ideal choice for you during your appointment. Also known as "laughing gas," it's administered through a mask that fits over your nose. While inhaling nitrous oxide, patients typically experience deep feelings of warmth, contentment, and even euphoria during their appointment. Even better is the fact that effects wear off minutes after the mask is removed, meaning that busy patients can immediately return to work, run errands, and even drive with no ill consequences.
Conscious Sedation
For patients with more severe phobias related to dental care, nitrous oxide might not be enough on its own. Thankfully, conscious sedation can offer you the stronger effects you need to undergo needed treatment. Whether it's achieved through oral medication or intravenously, conscious sedation helps patients achieve a deep, deep state of relaxation. While they will still be able to respond to verbal commands during their time in the dental chair, most patients are so comfortable that they barely remember anything about their appointment once it's finished.
When undergoing conscious sedation, patients will need a trusted friend or family member to take them home following their appointment and keep an eye on them for the rest of the day. You should be back to normal by the following morning!
Contact our Southlake dental office today if you have any questions or concerns about sedation dentistry, or if you're ready to schedule your first appointment. Dr. Thomas loves helping patients receive the wholesome, conservative treatment their smiles need in a spa-like environment that always promotes their absolute comfort. We also serve the areas of Keller, Fort Worth, Colleyville, Trophy Club, and beyond.