Family & General Dentist in Southlake, TX
Dental Checkups & Oral Hygiene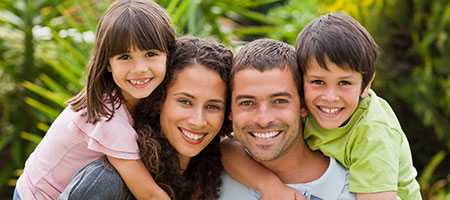 Prevention is key when it comes to maintaining great oral health at all ages. We recommend that patients attend at least two checkups a year so that we can inspect their mouths for any signs of damage or decay that could require treatment. Our state-of-the-art digital panoramic and cephalometric imaging system captures optimal quality X-rays that help us make your evaluation as thorough as possible. Oral cancer screenings for adults ensure that this dangerous disease is caught at the earliest possible stage. Your safety is paramount to us, and we'll be sure to leave you feeling confident in the state of your smile. Additionally, an in-depth cleaning will get rid of persistent plaque and leave you with teeth that feel fresh and polished.
Pediatric Dentistry
When it comes to dental care, children often need an extra-special approach to feel truly comfortable. That's why Dr. Thomas and her team are always gentle, friendly, and understanding when it comes to little smiles. We provide natural, conservative care that avoids scary needles, and our personalized pediatric services, such as BPA-free dental sealants are designed to protect your child's smile and establish them on the path toward lifelong oral health. As a mom, Dr. Thomas believes that everybody has a right to choices and she gives parents a choice if they want to use fluoride treatments for their children. If you have questions regarding that, please contact our office. Dr. Thomas also specializes in performing frenectomies. Follow the link to learn more!
Nightguards for Bruxism & TMJ Disorder
Teeth grinding, also known as bruxism, is a common symptom of regular stress. In fact, many patients aren't even aware that they suffer from the habit because it occurs unconsciously at night. Over time, this constant pressure can damage your oral tissues, lead to broken teeth, and even contribute to TMJ disorder, a debilitating condition that causes headaches and neck pain. Thankfully, our team in Southlake, TX, can help. A customized nightguard worn during sleep will protect your teeth by preventing the clenching and grinding associated with bruxism.
Sleep Apnea Treatment
Snoring is often seen as a harmless habit, but the truth of the matter is that it can be an indicator of a much more serious condition: sleep apnea. Sleep apnea is a disorder that is characterized by several pauses in breathing throughout the night, leading to daytime exhaustion, serious headaches, and potential health concerns if left untreated too long. If you've been diagnosed with sleep apnea by your doctor or a sleep specialist, contact Dr. Thomas at Enclave Dental. She can provide you with a customized oral appliance that is worn comfortably during sleep, clearing your airway and helping you receive a long, safe night's rest at last.
Sportsguards
The American Dental Association estimates that approximately 200,000 orofacial injuries are prevented by sportsguards each year. A custom athletic mouthguard from Enclave Dental can help prevent a variety of severe injuries commonly sustained during gameplay, including:
Fractured or chipped teeth
Soft tissue lacerations
Partially or fully avulsed (knocked out) teeth
Concussions
While it is possible to find athletic mouthguards at nearly any sporting goods store, these generic appliances are incapable of offering the superior level of protection provided by a custom sportsguard. We are happy to offer custom sports mouthguards to both children and adults.
Emergency Dentistry
We understand accidents and toothaches do not always happen during regular business hours. If they do, we can almost always fit you in for a same-day appointment. If they are after hours, please do not hesitate to call our office. We will provide an emergency access number that is either answered by Dr. Thomas or asks you to leave a short message. In either case, our goal is to triage the situation as quickly as possible and to help you find a resolution.
Within this context, please understand we are not an emergency room. If you are dealing with any sort of emergency situation that requires immediate attention, please call 911.
At Enclave Dental, we believe in providing dental care that's always wholesome and exceptional in quality. Dr. Thomas and her team hope to become your family's trusted oral healthcare home for years to come. Contact our Southlake, TX, dentistry today to schedule your first appointment, or if you have any questions about our dental services. We also welcome patients from the areas of Colleyville, Fort Worth, Trophy Club, Keller, and beyond.