August 19, 2015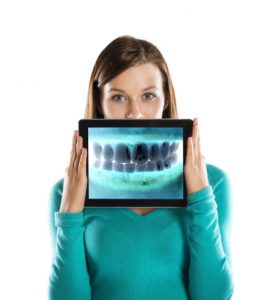 A missing tooth changes the way you look, the way it feels to chew or speak, and it can adversely affect your self-esteem. Worst of all, even one missing tooth can have a negative impact on your oral health leading to dental drift (shifting of surrounding teeth to fill in the gap), loss of gum tissue shape and support, and reduction in bone density. It is essential that missing teeth be replaced in a timely fashion in order to protect your long term oral health, but traditional tooth replacement options don't always sound very appealing. For instance, crown and bridge treatment to replace one or more consecutive teeth is effective, but it causes unnecessary damage to surrounding teeth and does not help to preserve gum tissue or jaw bone density. Innovations in dentistry have made dental implants a safe, effective tooth replacement option that restores the entire tooth from the roots up. If you're missing one or more teeth and want to find out more about dental implant tooth replacement, call Dr. Preetha Thomas of Enclave Dental today. Our Southlake, TX practice welcomes patients to schedule dental implant consultations to find out more about our practice and treatment options.

Who Should Consider Dental Implants?
One of the main selling points of dental implants is their versatility. Because implants replace the root of the tooth, they do not rely on anchoring to surrounding teeth or adhering to gum tissue for support. Instead, a titanium post is implanted below the gum lines to provide an anchor for a replacement dental prosthetics. Any patient who is missing teeth can have their smile fully restored using one or more dental implants.
How do Dental Implants work?
Dental implants rely on the success of a process called osseointegration. When the titanium implant posts are placed below the gums, the process begins. The post settles and mimics the function of tooth roots by fusing to the jawbone and supporting gums as fibers in the tissue attach to the post. Once the implant has fused with the bone and gum tissue, a replacement tooth or teeth can be permanently attached to the implant post. These dental prosthetics look, feel and function just like your natural teeth, and with adequate oral health care they can last a lifetime.
Are Dental Implants Better than Other Tooth Replacement Options?
For some people, dental implants are a much better tooth replacement option than other more traditional replacement methods. Dental implants allow patients who are missing teeth to experience permanent smile restoration. Compared with traditional dentures, implant supported dentures allow patients to reclaim as much as 70% of their chewing abilities. Additionally, implant supported dentures do not need to be removed for cleaning. Best of all, the titanium implant posts help you retain your natural gum tissue and jawbone density.
Call Your Southlake Dentist Today
Whatever your dental health care needs, the team at Enclave Dental is here to help. If you're missing one or more teeth, call to schedule an examination and consultation today. Your comfort and care are our top priorities, and it shows. Dr. Thomas and the Enclave dental team in Southlake, TX welcome patients form surrounding areas including Grapevine, Westlake, Colleyville, Euless, and Dallas.
Comments Off on Replace Missing Teeth with Dental Implants Southlake Residents Rely On
No Comments
No comments yet.
RSS feed for comments on this post.
Sorry, the comment form is closed at this time.