August 2, 2023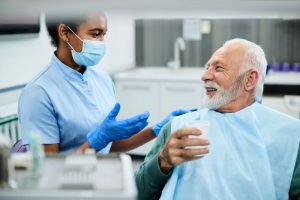 When most people think of dentistry, they automatically think about their teeth and gums. While it is true that dentists care for those important structures, they can also do so much more, especially if their care philosophy is holistic in nature. For example, more and more dentists are incorporating the principles of airway dentistry into their practice. Are you curious to learn more about this aspect of oral care? Read this introduction to airway dentistry.
What Is Airway Dentistry?
Unlike endodontics or orthodontics, airway dentistry is not an officially recognized dental specialty. Rather, it is an aspect of dentistry that deals with the structures in the upper airway that have an impact on how well a person breathes. Dental alignment, jaw alignment, jaw size, and the state of soft tissues in the throat and mouth can all affect upper airway function.
If a dentist notices abnormalities in a person's oral structures that could cause breathing problems, they may ask a patient if they have experienced any related symptoms, such as snoring or low-quality sleep. The dentist may also use advanced imaging technology to get a better look inside a patient's mouth and throat.
Diagnosis and Treatment for Airway Problems
After they gather information, a dentist who practices airway dentistry can recommend the next steps for a patient. For example, they might need to undergo a sleep test to find out whether they have obstructive sleep apnea or another sleep disorder.
Once a diagnosis has been made, an airway dentist can recommend appropriate treatment. Some patients benefit from a small appliance that shifts the jaw forward at night and allows for uninterrupted breathing. Other individuals might need functional orthodontics to gently reshape structures that affect breathing and sleep quality.
The Benefits of Airway Dentistry
Visiting a holistic dentist who knows how to recognize and treat upper airway issues can have several benefits:
You can get a diagnosis sooner. Your dentist may the first person on your medical team to notice signs of an airway problem.
You can enjoy more treatment options. Often, a primary care practitioner will automatically recommend a CPAP machine as the best treatment for sleep disordered breathing. However, many patients find CPAP therapy to be uncomfortable. Dentists offer effective alternatives, such as customized oral appliances.
You can improve your health. When you are able to breathe well during sleep, your body can get the rejuvenating rest it needs to function at its best. You may reduce your risk of issues like heart attack, stroke, dementia, and emotional disorders.
Airway dentistry has the potential to help you breathe easier and feel better!
Meet the Practice
Dr. Preetha Thomas is an experienced holistic dentist. She is deeply interested in the overall health of her patients and can offer guidance and therapies to help them find relief from obstructive sleep apnea and snoring. If you would like to find out how she can use the principles of airway dentistry to serve you, contact Enclave Dental at 817-912-1218.
Comments Off on An Introduction to Airway Dentistry
No Comments
No comments yet.
RSS feed for comments on this post.
Sorry, the comment form is closed at this time.