April 5, 2023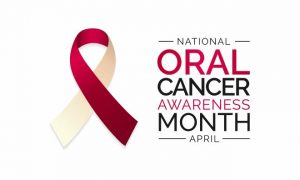 April is the first full month of spring. This time of year, many people are thinking about their gardens, their favorite baseball team, or their upcoming summer vacation plans. But did you know that April is also National Oral Cancer Awareness Month? It is the ideal time to learn about the signs and symptoms of this disease. You should also take a bit of time out of your schedule to attend an oral cancer screening with Dr. Thomas and our team. Let's talk about some reasons why this simple screening is so important.
Signs of Oral Cancer Can Be Subtle
Just like any type of cancer, oral cancer tends to be easier to treat when it is diagnosed in its early stages. Unfortunately, oral cancer has a relatively high mortality rate because its signs and symptoms often go ignored or unnoticed until the disease has advanced to the point where it is extremely dangerous.
For example, it may be easier to ignore a persistent sore throat or minor patches of discoloration within the mouth. If such issues are not causing a major disruption to your daily life, you may choose not to get them checked out. A professional screening can let you know whether such symptoms are a cause to seek further testing.
No One Is Exempt from Risk
It is commonly believed that the only people who develop oral cancer are those who smoke. It is true that smoking is a big risk factor for this disease. However, anyone can develop it, regardless of their age or lifestyle factors.
One of the biggest risk factors for oral cancer in nonsmokers is the human papilloma virus (HPV), which is the most common sexually transmitted infection. It often causes no symptoms, but it can be linked to the development of various types of cancers, including oral cancer.
Screening Is Fast and Easy
Oral cancer screenings are fast, easy, and completely pain-free. Here at Enclave Dental, we always include this service as part of each patient's routine dental exam. We inspect the mouth for any signs of discoloration, lumps, or other oddities that might signal the presence of cancer. We also gently palpate the lymph nodes to look for swelling. If we find any cause for concern, we will help you arrange for further testing.
Most people live their entire lives without having to battle oral cancer, and hopefully, you will be in that happy majority. But you should still be diligent about getting screened — a simple dental checkup could save your life!
Meet the Practice
Dr. Preetha Thomas is an experienced holistic dentist in Southlake who is passionate about supporting the overall health of her patients. If it has been more than a year since your last oral cancer screening, she and our team encourage you to visit us for this simple and potentially lifesaving service. To learn more about us or to book an appointment, contact Enclave Dental at 817-912-1218.
Comments Off on 3 Reasons to Schedule an Oral Cancer Screening This April
No Comments
No comments yet.
RSS feed for comments on this post.
Sorry, the comment form is closed at this time.