March 22, 2023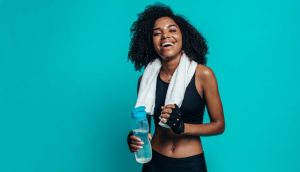 Exercise is one of the best things you can do for your body. It supports heart health, keeps your muscles strong, reduces aches and pains, can improve your mood, and offers a slew of other benefits. But did you know that it can also support your smile? If you want healthy gums, sticking to a good routine of physical activity would be wise. Read on below to learn how exercise may lower your risk of gum disease.
Exercise and Gum Disease Risk
A 2005 study published in the Journal of Periodontology found that people who engaged in three health-enhancing behaviors had a 40% lower risk of developing periodontitis. One of those behaviors was exercising regularly. The others were sticking to a healthy Mediterranean-style diet and maintaining a normal weight.
Other research also supports the conclusion that exercise can benefit gum health. A study published in the Journal of Clinical Periodontology compared rats who exercised with those who did not. It was found that the rats that underwent physical training had less inflammation and less bone loss in the jaw than those that had no physical training. In a nutshell, they had healthier gums!
Why Is Exercise Good for Gum Health?
There are a couple of ways in which exercise can benefit gum health. For example, moderate physical activity can act as an anti-inflammatory, decreasing the body's overall burden of inflammation. Since inflammation plays a major role in gum disease, keeping it to a minimum is important.
Exercise is also great for the immune system. It can increase the circulation of immune cells and reduce your overall risk of falling ill.
How Much Exercise Do You Need?
You do not have to be a world-class athlete to experience the oral health benefits of exercise. In fact, the standard recommendation is for adults to get 150 minutes of moderate cardiovascular exercise each week. That is just 30 minutes a day, five days a week. Alternatively, you could engage in 75 minutes of vigorous activity each week. Twice-weekly strength training for major muscle groups is also important.
Keep in mind that you should not drink sports beverages while you are exercising. Their sugar content, combined with their high acidity, can cause problems for your oral health. Drinking plenty of water and consuming healthy post-workout snacks can keep your body fueled without endangering your smile.
Exercise can benefit your body from head to toe. Try to incorporate more physical activity into your routine to keep your smile healthy and happy.
Meet Dr. Thomas
Dr. Preetha Thomas is a Fellow of the Academy of General Dentistry and a dedicated holistic oral health practitioner. She enjoys helping her patients adopt healthy habits that support their gum health and overall wellness. If you have questions about how you should care for your smile, she would be happy to speak with you. Contact Enclave Dental at 817-912-1218.
Comments Off on Want Healthy Gums? Exercise!
No Comments
No comments yet.
RSS feed for comments on this post.
Sorry, the comment form is closed at this time.