February 22, 2023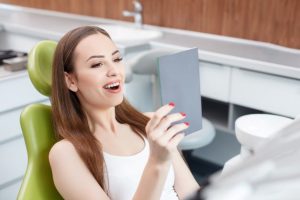 Often, one of the first things other people notice about you is your smile. A big, genuine grin can do much to give the impression that you are friendly, approachable, and kind. Your smile's appearance can also have an impact on how people perceive you. If your teeth do not look the way you wish they did, visit us for a cosmetic consultation. As a holistic dentist in Southlake, Dr. Thomas is ready to help you achieve the perfect smile in a way that considers both your oral health and overall wellness.
What Is the "Perfect Smile"?
Some people might say that the "perfect smile" is all about having straight, white teeth, proportionate gums, and plump lips. Certainly, those features can be attractive. However, a truly perfect smile is not just about appearances. It is, first and foremost, healthy.
During your first appointment with Dr. Thomas, she will evaluate your oral health and recommend any treatments that could improve its wellness. Some restorative procedures have inherent cosmetic benefits. For example, addressing gum disease can take your gums from being an unsightly red color to looking pleasantly pink. Similarly, restoring damaged teeth with crowns or fillings can automatically improve their appearance.
Holistic Cosmetic Dentistry
Of course, in some cases, a patient's smile is reasonably healthy but still has some aesthetic imperfections. If that is true of you, Dr. Thomas can help. She offers a number of treatments that can help your smile look its best without compromising your oral or overall health.
For example, she might suggest that you undergo teeth whitening to get rid of stubborn dental stains. When used properly, whitening products are quite safe and can brighten enamel by several shades. She also offers veneers, which she can attach to the fronts of your teeth in order to hide issues like cracks, chips, severe discoloration, and more. In addition, she has invested in the Fotona laser, which can stimulate collagen production in your lips and help to give you a plumper pout — without injecting any foreign substances into your body.
Customizing Your Look
Holistic dentistry is highly personalized. Some patients prefer what the media popularizes, such as bright white teeth. However, others favor a more subtle, natural appearance. Feel free to bring inspiration photos to your consultation with Dr. Thomas. Tell her what you like about the smiles in the photos so she can plan your treatment accordingly.
Holistic dentistry is all about caring for you as a whole person. That includes helping you achieve a confident smile that you are proud to show off!
Meet Dr. Thomas
Dr. Preetha Thomas is an experienced holistic and cosmetic dentist in Southlake. She never recommends treatments that are not in her patients' best interests, and she pays great attention to detail whether she is designing veneers, placing crowns, or performing any other service. To learn more about how she and our team at Enclave Dental may be able to serve you, contact us at 817-912-1218.
Comments Off on Achieving the Perfect Smile with Holistic Dentistry
No Comments
No comments yet.
RSS feed for comments on this post.
Sorry, the comment form is closed at this time.