December 7, 2022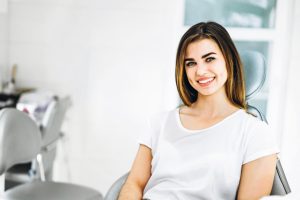 Dr. Thomas is all about helping patients enjoy optimal oral health with the most conservative treatment possible. To that end, she has invested in a number of advanced technologies, including the equipment needed to provide ozone therapy in Southlake. What exactly is ozone therapy, and how can it boost your oral health? Let's talk about the answers to these important questions.
What Is Ozone Therapy?
Ozone is a unique molecule that consists of three oxygen atoms that are bonded together. Ozone particles are negatively charged, and when they begin to break down, they release a transient oxidative burst. That might sound complicated, but it is basically just a chemical reaction that is deadly for harmful oral bacteria. When ozone is used in a dental setting, it can play a big role in supporting patients' oral and overall wellness.
Benefits of Ozone Therapy for Oral Health
Depending on how and when it is used, ozone therapy can provide numerous benefits. Here are a few of the most outstanding:
It Is Safe
You might have heard a few naysayers claiming that ozone therapy is not particularly beneficial or safe. The reality, though, is quite different. It is very safe when used properly. After all, it is just a special type of oxygen molecule!
With that being said, it is worth keeping in mind that ozone can be toxic when inhaled, so it is important to choose a dentist, like Dr. Thomas, who knows how to administer it properly. Within about 30 minutes after it is used, most of it will have converted back into the regular two-atom version of oxygen that humans need to breathe.
It Supports Conservative Treatment
Too many modern dentists take a "drill and fill" approach to dentistry. Ozone therapy helps Dr. Thomas to be more conservative. One remarkable thing that it can do is encourage the remineralization of tooth enamel. In other words, it can create a response in your body that fills in small cavities. It could help you avoid the need for a filling!
It Encourages Healing
Any type of invasive oral procedure comes with a healing period. Ozone therapy can help make the recovery process as easy as possible. By applying ozone to a surgical site, Dr. Thomas can encourage your body to heal as quickly as possible. Additionally, because ozone kills harmful microorganisms, you can expect to enjoy a reduced risk of post-operative infections.
Ozone therapy is a wonderful part of holistic dentistry in Southlake! If you have questions about it and how it may be able to benefit you, be sure to ask Dr. Thomas or a member of our team the next time you visit our office.
More about Dr. Thomas
Dr. Preetha Thomas is a holistic dentist and a proud Fellow of the Academy of General Dentistry. She believes in using conservative methods to help patients enjoy healthy smiles and optimum overall wellness. Ozone therapy is one of the many advanced techniques that she uses. To learn more about her and our team, contact Enclave Dental at 817-912-1218.
Comments Off on What Is Ozone Therapy? How Can It Improve Your Oral Health?
No Comments
No comments yet.
RSS feed for comments on this post.
Sorry, the comment form is closed at this time.