October 5, 2022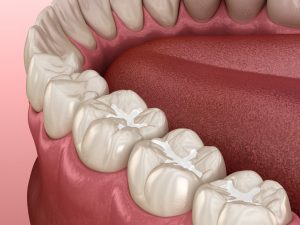 In the past, dentists primarily used silver amalgam to fill in cavities. While it does a decent job of stopping tooth decay, it has some significant downsides. For example, because amalgam is composed of roughly 50% mercury, it can pose some health risks to patients. Fortunately, Dr. Thomas and many other dentists choose never to use silver amalgam. Instead, they rely on biocompatible fillings in Southlake. What does it mean for a filling to be "biocompatible," and why are these restorations so beneficial? Read on below to discover the answers.
What Does It Mean if Something Is Biocompatible?
"Biocompatible" is an adjective that describes substances which are not toxic or otherwise harmful to living tissue. In medicine and dentistry, biocompatible materials are ones that are able to perform a given function without triggering adverse effects in the surrounding tissue or throughout a patient's body.
What Are Biocompatible Fillings?
Biocompatible fillings are mercury-free. In fact, instead of containing metals, they are composed out of materials that pose much less risk to the tissue around them. Some biocompatible fillings are made out of a mixture of resin and tiny bits of glass. Other fillings are plastic-based. Such materials are safe for the vast majority of patients. (Of course, chemical sensitivities vary from person to person. Be sure to let Dr. Thomas know if you have any known allergies or sensitivities to specific materials!)
The Importance of Biocompatible Fillings
Choosing biocompatible materials whenever possible is hugely important to Dr. Thomas and our team. Placing these fillings, while avoiding the use of mercury-based restorations, reduces the risk that patients will suffer harmful side effects from their dental treatment. For example, some people with multiple metal fillings have reported symptoms of mercury poisoning, including headaches, tremors, and other neurological issues. Such problems are virtually unheard of with biocompatible fillings.
Other Benefits of Biocompatible Fillings
Aside from being better for patients' health than traditional fillings, biocompatible fillings offer some additional benefits:
Unlike metal fillings, they can be shade-matched to blend in seamlessly with the color of the surrounding dentition. They also will not stain the nearby tissue.
They bond to the teeth, decreasing the chances that bacteria will sneak in around them and cause decay beneath the restorations.
They require minimal tooth preparation, which means that as much healthy dentition as possible gets to stay intact.
They have the potential to last for several years.
Biocompatible fillings have become the new standard in dentistry. If you want to know more about this remarkable innovation, ask Dr. Thomas. She will be happy to answer your questions!
Meet Dr. Preetha Thomas
Dr. Preetha Thomas is a holistic dentist in Southlake who carefully selects the materials she uses in her practice based on both their biocompatibility and their ability to effectively address dental problems. She greatly enjoys educating her patients in order to empower them to make wise choices about their oral and overall health. To learn more about her and how she may be able to serve you, contact Enclave Dental at 817-912-1218.
Comments Off on What Are Biocompatible Fillings? Why Are They Important?
No Comments
No comments yet.
RSS feed for comments on this post.
Sorry, the comment form is closed at this time.