September 21, 2022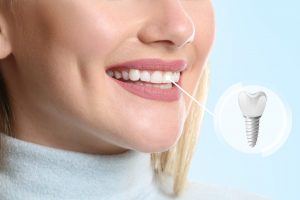 It is possible to eat a variety of foods while missing a few teeth. Therefore, many people reason that it is not worth the time and money to pursue tooth replacement. Of course, this is a personal decision. However, it is important to look to the future. Let's talk about some benefits you could experience if you choose to fill in the gaps in your smile with dental implants in Southlake.
Enhanced Aesthetics
If your missing teeth are toward the front of your mouth, onlookers may quickly notice the empty space in your smile. Dental implants — or even a traditional bridge — can provide a natural-looking way to fill in the gap. Many people find that they enjoy increased confidence after replacing their lost teeth.
Prevent Dental Drift
Teeth are not cemented into place. Rather, they are attached to the bone via small ligaments, meaning that they have the potential for movement. When a tooth goes missing, nearby teeth may begin to drift out of their positions. This can lead to a misaligned bite and aesthetic issues. It might even heighten the risk of TMJ disorder. Replacing a lost tooth can prevent dental drift and keep your entire smile where it belongs.
Reduce the Risk of Further Tooth Loss
Tooth loss often precedes tooth loss. In fact, there is research to indicate that failing to replace missing teeth can increase the risk of future tooth loss by a whopping 30%. Investing in a dental implant can play a large role in allowing you to keep all of your remaining natural teeth.
Reduce Your Risk of Gum Disease
The empty socket left by a missing tooth can begin to collect harmful bacteria. Eventually, the accumulation of bacteria can cause gum disease. Left unchecked, gum disease is a major risk factor for tooth loss. It can also contribute to other unpleasant symptoms, such as bleeding gums, chronic bad breath, and more.
Protect Your Overall Health
Not only can gum disease have severe consequences for oral health, but it can also affect overall wellness. Various studies have shown a strong association between it and a number of serious conditions, including dementia, heart disease, preterm birth, and more. Replacing lost teeth might reduce your risk of such issues.
Preserve Your Jawbone
When the natural teeth go missing, the jawbone that once supported them begins to become weaker and smaller. Over time, this deterioration can reach the point where the facial shape is affected. Because dental implants act as substitute tooth roots, they can stimulate the bone and help it to stay intact.
Missing teeth can adversely affect your smile and your overall health — replacing them is a wise choice!
Meet the Dentist
Dr. Preetha Thomas is an experienced dentist in Southlake who offers a variety of tooth replacement options. She even partners with local specialists to provide top-quality dental implant care. To learn more about your options for filling in the gaps in your smile, contact Enclave Dental at 817-912-1218.
Comments Off on 6 Reasons to Replace Your Missing Teeth
No Comments
No comments yet.
RSS feed for comments on this post.
Sorry, the comment form is closed at this time.