August 17, 2022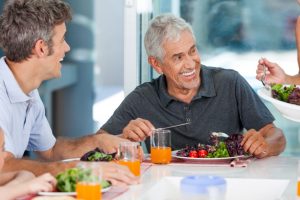 Millions of people rely on their traditional dentures to help them eat their favorite foods and smile with confidence. These prosthetics are certainly useful, and they are more comfortable and functional than ever before. But have you thought about how they might affect nutrition in Southlake? Let's discuss some noteworthy research on this subject.
Nutrition Before and After Dentures
A study from the Regenstrief Institute and Indiana University School of Dentistry examined data from 10,000 patients with the goal of understanding how dentures affected their nutrition. The researchers compared the patients' nutrition markers from two years before they got dentures to their nutrition markers two years after they got dentures.
The researchers found a significant decline in nutritional markers after patients got dentures. Although most of their data points were still considered normal, it is reasonable to believe that with prolonged denture wear, those markers could continue to decline.
Why Do Dentures Affect Nutrition?
There are a couple of ways in which dentures in Southlake may affect nutrition:
Chewing force. Wearing a full denture can reduce an individual's chewing force to roughly 20 – 25% of what it was when they had full use of their natural teeth. Therefore, denture wearers cannot chew food as thoroughly as they once did. They may swallow larger chunks of food, which can inhibit the digestive tract's ability to extract nutrition from it.
Dietary changes. Because eating certain foods is challenging with dentures, some people may change their eating habits. Rather than regularly enjoying crisp raw veggies and fruits, they may tend to stick to eating mostly soft foods. They may therefore miss out on certain nutrients.
Finding a Solution
Denture wearers may be able to take in adequate nutrients simply by altering their diet. For example, enriched meal replacement shakes and certain supplements may partially makeup for what they are missing out on due to their dentures.
However, for many patients, an even better solution is available. If you are concerned about the disadvantages of your traditional denture, talk to Dr. Thomas about dental implants in Southlake. Dental implants act as prosthetic tooth roots. They can anchor a denture in place and provide a chewing force that is 70 – 90% of what is provided by natural teeth. Dr. Thomas can examine your mouth and let you know if implants may be an option for you. If they are, she will partner with trustworthy local specialists to guide you through the treatment process.
Dentures may adversely affect your nutrition. Fortunately, there are steps you can take to make sure your body gets all the nutrients it needs to thrive.
Meet Dr. Thomas
Dr. Preetha Thomas is a holistic dentist in Southlake who focuses on helping patients enjoy improved overall health via top-quality oral care. She offers traditional dentures, dental implant restorations, and a range of other services. To learn more about how she and our team may be able to serve you, contact Enclave Dental at 817-912-1218.
Comments Off on Understanding the Connection between Dentures and Nutrition
No Comments
No comments yet.
RSS feed for comments on this post.
Sorry, the comment form is closed at this time.