June 15, 2022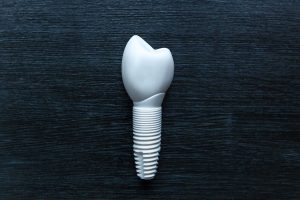 Dental implants are widely considered to be the best type of tooth replacement. But did you know that there are multiple types of implants? Most practices use ones that are made out of a titanium alloy, a material that is strong and generally considered to be safe for use within the human body. However, some patients are concerned about the risks associated with titanium and opt for zirconia dental implants in Southlake instead. What are zirconia implants, and how do they compare to their metal counterparts?
What Are Zirconia Implants?
Zirconia, also called zirconium-dioxide, is a material that contains zirconium and oxygen molecules. Zirconium is a metal, but zirconia is considered to be a ceramic material. Zirconia features a white color, it does not trigger chemical reactions in the body, and it can never corrode.
Dental implants made of zirconia have a similar shape to titanium implants. However, zirconia implants usually feature one-piece construction, while titanium implants usually have two pieces (an implant post and an abutment, which serves to keep artificial teeth in place).
Zirconia vs. Titanium — Which Is Better?
Both zirconia and titanium implants have their pros and cons. Here is a brief comparison of some of their main features:
Health risks. In some cases, titanium implants have contributed to galvanic toxicity, a problem that occurs when two or more metals co-exist in the mouth. Titanium has also been known to corrode. Zirconia is free of these risks.
Aesthetics. In some cases, the dark color of titanium implants becomes visible through the gum tissue. Since zirconia implants are white, they can look more natural in a patient's smile.
Strength. Both zirconia and titanium implants are very strong. However, when exposed to extreme pressure, zirconia is more likely to fracture, whereas titanium is more likely to bend.
Osseointegration. Studies have shown that in some cases, zirconia is better than titanium at integrating with the jawbone and gum tissue.
Risk of peri-implantitis. Peri-implantitis is a type of infection that is a major cause of dental implant failure. It may be less likely to occur with zirconia implants because the surface of the implants is so smooth that it is difficult for bacteria to cling to them.
Making Your Choice
If you are struggling to determine whether titanium or zirconia implants are better for you, we encourage you to come in for a consultation with Dr. Thomas. As a dentist in Southlake who is familiar with research surrounding both types of treatments, she can answer your questions and help you weigh the pros and cons of your options. Then, she can refer you to a trustworthy local specialist who offers dental implant placement.
Zirconia dental implants are a remarkable innovation in the world of tooth replacement. They might be just what you need to rebuild a complete, healthy smile.
More about Dr. Thomas
Dr. Preetha Thomas is a holistic dentist who cares deeply about the overall wellness of her patients. She carefully considers how the various materials used in dental treatments may affect the rest of the body. If you are interested in dental implants, she would be happy to help you get started on your tooth replacement journey. To learn more, contact Enclave Dental at 817-912-1218.
Comments Off on Get the 411 on Zirconia Dental Implants
No Comments
No comments yet.
RSS feed for comments on this post.
Sorry, the comment form is closed at this time.