January 19, 2022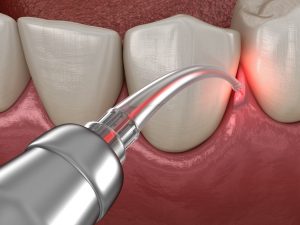 Gum disease is one of the most dangerous oral health conditions. Left untreated, it can lead to tooth loss and increase your risk of several serious problems, including Alzheimer's, heart attack, stroke, and more. What can you do to stop gum disease in its tracks? Dr. Thomas and our team are ready to help you. One particularly effective form of gum disease treatment in Southlake is laser periodontal therapy. Let's talk about what it is and how it may be able to help you.
Laser Periodontal Therapy: The Basics
Gum disease starts out as a relatively minor condition (gingivitis). If it is left untreated, however, it progresses to periodontitis, which is characterized by irreversible damage to the gums and the bones that support the teeth. Bacteria-filled pockets may form between the gums and teeth. Fighting those bacteria is an essential part of managing gum disease.
During laser periodontal therapy, a soft tissue laser is used to trim away diseased gum tissue. The laser also kills bacteria. Following the procedure, the gums are able to reattach to the teeth, and you may once again enjoy a healthy smile.
What Are the Benefits of Laser Periodontal Therapy?
Of course, laser treatment is not the only way to address periodontitis. Some practices use more traditional tools, such as scalpels, to remove diseased tissue. However, as a holistic dentist in Southlake, Dr. Thomas prefers laser-based treatments. There are several reasons behind her preference:
A laser cauterizes the tissue as it moves, which minimizes bleeding.
The recovery period after a laser treatment is generally shorter than with traditional treatments.
The laser's powerful bacteria-fighting properties reduce the risk of infection.
A laser is extremely precise, so only the minimum amount of tissue is removed.
Laser-based treatment is quite comfortable; in many cases, anesthesia is not even necessary.
Is Laser Periodontal Therapy Right for You?
If you believe that you have gum disease, you should seek care as soon as you can. During your appointment, Dr. Thomas will assess your oral health and make a recommendation about your next steps. She tends to favor the most conservative treatments possible, so if your gum disease is still relatively mild, you may not need laser periodontal therapy. Changes to your oral hygiene routine or a deep cleaning of your mouth may be all that is necessary.
If you do need laser periodontal therapy, Dr. Thomas and our team will guide you through the process, including its financial aspects. In many cases, it is covered by PPO insurance, and our team will be happy to help you file your claims.
Gum disease is dangerous! Fortunately, innovative and precise laser periodontal therapy may be able to get you on the road to a healthier smile and a healthier body.
Meet Dr. Thomas
Dr. Preetha Thomas is a holistic dentist who combines her extensive knowledge with advanced technology to provide conservative, effective oral healthcare. She is a Fellow of the Academy of General Dentistry and a member of several other prestigious organizations. To learn more about her and how our team may be able to serve you, contact us at 817-912-1218.
Comments Off on What Is Laser Periodontal Therapy? How Does It Work?
No Comments
No comments yet.
RSS feed for comments on this post.
Sorry, the comment form is closed at this time.