January 5, 2022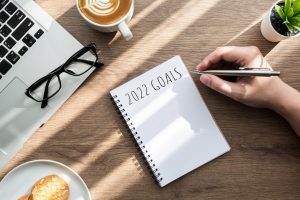 What do you hope to accomplish in 2022? Many people are making plans to get fit, enhance their career, or learn a new skill. All of those goals are wonderful — but have you considered adding a few New Year's resolutions in Southlake that focus on your oral health and overall wellness? Let's talk about a few things you can do in 2022 to benefit your entire body.
Balance Your pH Levels
The normal pH level for blood and saliva is around 7.4. Of course, this can vary between individuals, so it's not a big deal if your pH isn't exactly at that level. However, a saliva pH level of 5.5 or below creates an acidic environment that can wear away at your tooth enamel and contribute to decay. Consider cutting back on acidic treats, such as soda and sports drinks. You could also increase your intake of foods that encourage a healthy pH level, including most vegetables and fruits, unsweetened yogurt, beans, and soy products.
Prioritize Your Sleep
Did you know that millions of Americans struggle with sleep apnea, and that many of them are undiagnosed? If you are often tired and don't know why, it is possible that you have this condition. Getting diagnosed and treated can have a range of benefits. In the short term, you may enjoy better moods, improve your reflexes, and find it easier to resist cravings for sugary and starchy foods. In the long term, you could lower your risk of cardiovascular disease, obesity, and other serious conditions.
Drink More Water
You've probably heard it said that you should drink eight glasses of water each day, but that's not necessarily true. Hydration needs vary from person to person and from day to day, depending on how active a person is and what sort of climate they live in. However, a lot of people really could benefit from drinking more water. Being well-hydrated may improve your complexion, help you enjoy better sleep, and improve your cognitive abilities. Plus, drinking plenty of water helps to rinse away bacteria and food particles in your mouth that could contribute to cavities.
Visit a Holistic Dentist
Oral health and overall health are intricately connected. As a holistic dentist in Southlake, Dr. Preetha Thomas understands that and considers her patients' whole-body wellness. At your next appointment with her, she will examine your mouth, make recommendations on how you can improve your daily habits, and answer your questions about holistic dental care. Visiting her twice a year for preventive care has the potential to benefit both your smile and your body.
Are you ready to make 2022 your year? The above resolutions may empower you to feel your best and play a role in helping you reach your full potential.
More about Dr. Thomas
Dr. Preetha Thomas is a highly accomplished, highly experienced dentist who prides herself on offering holistic, conservative care to the Southlake community. To learn more about her and the services offered at Enclave Dental, contact us at 817-912-1218.
Comments Off on Improve Your Health in 2022 with These 4 New Year's Resolutions
No Comments
No comments yet.
RSS feed for comments on this post.
Sorry, the comment form is closed at this time.