November 17, 2021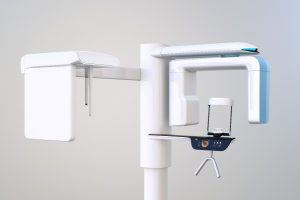 There are some widespread misconceptions out there about holistic dentistry. For example, some people think that holistic doctors are less concerned about science and technology than conventional practitioners — that is absolutely not true! In fact, holistic care depends heavily on advanced technology. For example, CBCT and holistic dentistry in Southlake go hand in hand. Let's talk about how Dr. Thomas uses this technology to provide excellent care to her patients.
What Is a CBCT Scanner?
CBCT stands for "cone beam computed tomography." This type of scanner is similar to a normal X-Ray, but it provides much more detailed images. It uses a cone-shaped beam of radiation to allow Dr. Thomas to see, not just your teeth and jawbone, but also your nerves and connective tissues.
Uses of CBCT Scanners in Holistic Dentistry
Dr. Thomas doesn't order CBCT scans as part of a routine checkup. However, she does rely on them when diagnosing certain oral health problems and planning complex treatments.
For example, a cavitation (a hole in the jawbone that may collect dangerous bacteria and toxins) is a serious oral health problem that can occur at the site of an extraction. Unfortunately, it usually goes undiagnosed unless a CBCT scan is performed. Without diagnosis and treatment, it could lead to chronic illness. If you have symptoms of a cavitation, such as headaches or facial pain, Dr. Thomas might recommend that you undergo a CBCT scan so she can pinpoint the location of the problem and design a treatment plan.
Other reasons why a CBCT scan might be necessary include:
You have a tooth that was treated with root canal therapy that might have a secondary infection.
You are planning to get dental implants.
It is important to gain an in-depth assessment your teeth and other oral structures to arrive at an accurate explanation for why you are experiencing certain symptoms.
CBCT Scans and Your Overall Health
It's encouraging to note that CBCT scans are easy and painless. You don't have to do anything special to prepare for the scan, beyond removing your glasses or other items that might interfere with your results. A scan usually takes less than a minute.
Of course, as easy as it is to undergo a CBCT scan, you might still be a little worried. After all, radiation is involved. The good news is that while a CBCT scanner uses more radiation than a normal dental X-Ray, it uses much less radiation than a traditional CT scanner that you would find in a hospital. Risks of CBCT scanners are quite low, and Dr. Thomas never orders a scan unless she believes that it is necessary for the oral and overall health of a patient.
A CBCT scanner is just one of the many tools that can equip your "holistic dentist near me" to provide you with the high-quality care that you deserve! If you would like to learn more about this technology, Dr. Thomas and our team would be happy to talk with you.
More About Our Practice
Dr. Preetha Thomas is a highly experienced, highly educated dentist who is passionate about providing holistic care. She employs a broad range of state-of-the-art technologies to help her look after her patients' oral and overall wellness. To learn more about her and how she may be able to serve you, contact our office at 817-912-1218.
Comments Off on The Role of CBCT Scanners in Holistic Dentistry
No Comments
No comments yet.
RSS feed for comments on this post.
Sorry, the comment form is closed at this time.