August 4, 2021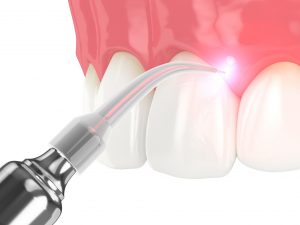 Dr. Thomas is interested in creating a comfortable, efficient, and conservative treatment experience for patients. In order to accomplish this goal, she has invested in some advanced technology, including a CO2 laser. What is laser dentistry in Southlake, what are its applications, and how can it benefit you? Continue reading this blog post to discover answers to these important questions.
What Is Laser Dentistry?
Laser dentistry involves the use of a laser to perform tasks that would otherwise be performed with traditional dental instruments, such as a scalpel. There are different types of lasers that have applications in dentistry. Here in Dr. Thomas' office, we use a CO2 laser. CO2 lasers have been used for intraoral procedures for decades, so they have a proven track record of success. They are excellent for use on oral soft tissues; the specific wavelength they use makes them effective without making them too powerful for use on delicate structures inside the mouth.
Applications for Laser Dentistry
As a holistic dentist in Southlake, Dr. Thomas may use her CO2 laser for a number of different purposes. For example, she often uses it to perform frenectomies. The laser can quickly and painlessly sever the lingual frenulum (the piece of tissue that connects the tongue to the floor of the mouth) in order to treat tongue tie.
Another application is periodontal therapy. The laser can remove diseased gum tissue, kill harmful bacteria, and encourage healing. Laser-based periodontal therapy is less invasive than traditional gum surgery.
Of course, frenectomies and periodontal therapy are just the beginning of what laser dentistry can be used for. It can also play a role in treating cavities, enhancing a smile's appearance, and much more.
Benefits of Laser Dentistry
A CO2 dental laser is superior to traditional treatment methods in a number of ways:
The laser kills bacteria, reducing the risk of postoperative complications.
Because the laser cauterizes tissue as it moves, it produces little to no bleeding. Sutures are often not necessary following a laser-based surgical treatment.
A laser can reduce or even eliminate the need for local anesthesia. The level of comfort it provides may be useful in helping patients cope with dental anxiety.
Recovery time after a laser-based procedure tends to be shorter and easier than when procedures are performed with traditional tools.
A laser is more precise than a scalpel, which means that the minimum amount of tissue is removed during gum disease therapy and other surgical procedures.
Lasers promote regeneration of healthy tissue.
Laser dentistry is a remarkable and efficient means of performing numerous procedures. It might just make your next dental appointment more comfortable than you expect!
More about Dr. Thomas
Dr. Preetha Thomas is a highly accomplished dentist who received her dental degree from the Advanced Standing Program at Harvard School of Dental Medicine. She focuses on providing holistic, conservative care to her patients. If you would like to learn more about her and how she uses a CO2 laser to perform various procedures, contact Enclave Dental at 817-912-1218.
Comments Off on The Remarkable Role of CO2 Lasers in Dentistry
No Comments
No comments yet.
RSS feed for comments on this post.
Sorry, the comment form is closed at this time.