June 2, 2021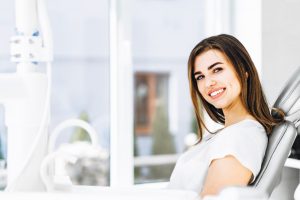 There are nearly 8,000 general dentistry practices in the state of Texas. Sometimes it might seem like there is a dental office on every corner! Since you are spoiled for choice, the task of narrowing down your options can seem a little daunting. We hope you consider partnering with our practice to care for your oral health! Dr. Thomas and the Enclave Dental team always go the extra mile to look after, not just your smile, but your head-to-toe well-being. Let's talk about just a few aspects of our practice that make us different from a typical dental office.
Holistic Care
Dr. Thomas is proud to be a holistic dentist. This means that she treats people, not just their mouths. Every treatment recommendation she makes is based on a consideration of how it will affect your overall health on a long-term basis. For example, she favors metal-free dentistry because it carries lower risks than treatments that involve metal-based materials.
At the same time, she is conservative. If you have old metal restorations, she won't arbitrarily recommend that you get them removed. She will only make such a recommendation if she determines that it is important for your oral and overall health. She believes in empowering patients to make well-informed decisions about their care, rather than pressuring them to commit to treatments that are not truly necessary.
A Highly Educated Dentist
Dr. Preetha Thomas has many years of experience in dentistry. She is committed to continually growing her skills, which is why she regularly takes continuing education courses. For example, she has completed over 200 hours of advanced training with Garetty Orthodontics. And she has finished more than 500 hours total of continuing education in order to receive achieve Fellowship status with Academy of General Dentistry.
To keep up to date with the latest developments in her field, she is a member of numerous prestigious organizations, including the American Academy of Craniofacial Pain, the American Dental Association, the Texas Dental Association, and the International Academy of Oral Medicine and Toxicology.
A Warm and Welcoming Environment
Enclave Dental has been a part of the Southlake community for years. We have forged strong relationships with our patients through our personalized approach to comfortable care. You can expect a warm welcome every time you visit us. We offer spa-like amenities, including complimentary beverages and back massages, to help you feel at ease (when circumstances permit).
We carefully listen to our patients' concerns, answer their questions, and perform treatments with a high attention to detail. If you are a little nervous about a procedure, please let us know. We will strive to be extra gentle and may offer sedation as well.
Contact Us to Learn More
Dr. Thomas and our team believe we are one of the best dentists in the Southlake area. If you would like to learn more about our practice, our team, or the services we provide, please contact us at 817-912-1218. We look forward to helping you experience the Enclave Dental Difference!
Comments Off on Experience the Enclave Dental Difference
No Comments
No comments yet.
RSS feed for comments on this post.
Sorry, the comment form is closed at this time.