April 21, 2021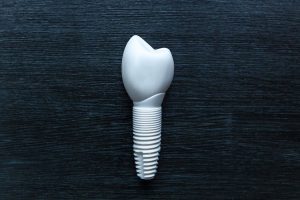 If you're missing teeth, you've likely heard about dental implants in Southlake to restore your smile. Did you know not all dental implants are the same? They can be made from a variety of materials, like zirconia. Although they are typically made of titanium, zirconia offers certain benefits not possible with a metal post. Besides unmatched comfort and aesthetics, here are a few additional advantages you'll enjoy when choosing the holistic solution.
What Are Zirconia Implants?
Dental implants are traditionally made of titanium; however, ceramic can also be used. Zirconia is a preferred material because it's biocompatible. Not to mention, it offers a one-piece design, instead of 3 separate components like a standard implant.
What Are the Benefits of Zirconia Dental Implants?
Your holistic dentist in Southlake may recommend zirconia to replace your lost teeth because of a few key features not possible using metal posts, such as:
1. Decreased risk of allergic reactions.
Metal sensitivities aren't uncommon. Silver, gold, and even titanium can cause an inflammatory response that can lead to discomfort and dental implant failure. Zirconia is the perfect option for patients at risk of allergic reactions.
2. Natural-looking results.
An implant post is surgically placed into your jawbone to serve as a root. Although it's embedded into the gum tissue, the metal abutment that connects the restoration to the post might be visible when implant dentures are removed. Zirconia implants are tooth-colored to provide a more natural look.
3. Reduced likeliness of corrosion.
Your mouth is a moist environment. As a result, metal dental implants can corrode over time. You won't need to worry about corrosion with zirconia because they are classified as ceramic.
4. One-piece design.
A traditional implant consists of a titanium implant post, a metal abutment, and an all-ceramic restoration. A zirconia implant differs because it is fabricated as one piece. This makes it easier to handle and provides a seamless option to replace the entire tooth at once.
5. Durable for added strength.
Although zirconia implants aren't made of metal, they are equally durable with a similar success rate. Their innovative design allows them to withstand the pressure of biting and chewing. Your replacement tooth can last for decades with the right aftercare, like maintaining your oral hygiene and visiting your dentist regularly for a cleaning and checkup.
Choose a Holistic Solution
If you're ready to replace your missing teeth, consider a holistic option to restore a complete smile. Overall, zirconia promotes healthier gums, added convenience, and high endurance to enjoy a long-term investment. Experience the difference today using zirconia implants.
About Dr. Preetha Thomas
Dr. Thomas earned her dental degree from the Advanced Standing program at the Harvard School of Dental Medicine. She has completed extensive training in many specialties, like oral pathology and maxillofacial oral surgery. Dr. Thomas uses a holistic approach to dentistry to create healthy smiles while promoting her patients' overall well-being. If you're interested in dental implants, contact our office today to see if you're a candidate for zirconia.
Comments Off on 5 Amazing Benefits of Zirconia Dental Implants
No Comments
No comments yet.
RSS feed for comments on this post.
Sorry, the comment form is closed at this time.