March 10, 2021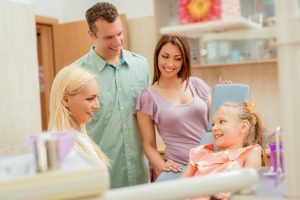 Did you know everyone over the age of 2 should see their dentist at least twice a year? If you have various age groups living in your house, maintaining dental appointments can be challenging because you must juggle multiple locations. Thankfully, there's an easier way for everyone to receive the necessary services they need for optimal oral health and wellness. A family dentist in Southlake can treat everyone under one roof. Here are 5 amazing benefits of choosing a family dentist.
1. Simplifies Dental Care
A family dentist can treat patients of all ages, including toddlers, the elderly, and everyone in between. You can skip visiting several dental offices to ensure everyone's needs are met. Instead of having separate dentists, you will all benefit from the qualifications and experience of one dental team. You can set appointments for the entire family on the same day, so you don't need to worry about missing multiple days of work or school.
2. Complete Services Under One Roof
All patients have unique oral health needs. It's not uncommon for patients to be referred to a different dental office for a specific treatment, like a root canal. Choosing a family dentist allows you to advantage from complete care from one location because they offer a broader scope of services, including preventive, restorative, and cosmetic dentistry.
3. Stronger Relationship with Dentist
Visiting one dentist over the years allows you to build a stronger relationship with your dental team. This is especially important for children because it helps them learn to trust the dentist and feel comfortable during their appointments. As a result, they are more likely to maintain routine dental visits as they enter adulthood to maintain lasting oral health.
4. Easier to Track Dental History
If you or your dentist in Southlake need to review your dental history, it's easy to track your records because they will be kept at one location. Your dentist will also be able to review the records of your loved ones to look for certain genetic or environmental issues that can affect the health of your family's teeth and gums.
5. Generations of Healthy Smiles
Visiting a dentist regularly allows you to set a good example for the younger members of your family. They'll grow to understand the importance of caring for their smile to remain committed to their dental health over the years. As everyone in your home goes through each phase of life, your dentist will be by your side to create generations of healthy, beautiful smiles.
Benefit from a Family Dentist
A family dentist is an invaluable asset to have by your side to ensure your loved ones achieve the healthy smile they deserve. You'll ensure optimal wellness through comprehensive dental care.
About Dr. Preetha Thomas
Dr. Thomas is a family dentist in Southlake who earned her dental degree at the Harvard School of Dental Medicine. She has undergone advanced training in orthodontics, dentofacial orthopedics, and many other areas of specialty to resolve complex oral health issues. Dr. Thomas treats patients of ages through a holistic approach. If you need a family dentist, contact our office today to schedule an appointment.
Comments Off on 5 Benefits of Having a Family Dentist
No Comments
No comments yet.
RSS feed for comments on this post.
Sorry, the comment form is closed at this time.