January 27, 2021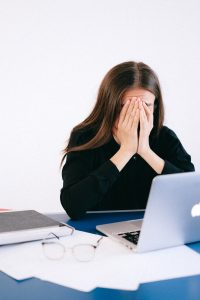 Do you struggle to feel well-rested despite sleeping 7 to 8 hours at night? Has your quality of life suffered because of poor sleep quality or overwhelming anxiety? The solution to achieve a better night's rest and calming your apprehensions might not be what you expect. Research shows a connection between anxiety and sleep apnea in Southlake. As a result, regaining your quality of life might be as simple as sleep apnea therapy. You can breathe easier to get the restful sleep you need while also calming your nerves.
What is Obstructive Sleep Apnea?
At least 18 million Americans have obstructive sleep apnea; however, as much as 4% of people haven't been diagnosed. The disorder causes frequent pauses in breathing while sleeping because the tissues in the back of the throat or the tongue block the airway. Besides a poor night's rest, sleep apnea can cause a variety of symptoms and complications, like anxiety.
How are Sleep Apnea and Anxiety Connected?
Your body responds to stress in the form of anxiety, which is an emotion manifested as tension and worried thoughts. This can cause an increase in blood pressure, insomnia, and several other issues, like worsening sleep apnea.
The sleep disorder is known to cause a variety of issues, like daytime fatigue, headaches, depression, and anxiety. Sleep apnea can also worsen anxiety symptoms because the pauses in breathing cause a "panic" signal in your brain. As a result, you'll be jerked awake to replenish oxygen levels. The stress of these events can cause changes to mood changes, blood pressure, concentration, and even increases in anxiety episodes.
Not only can sleep apnea trigger nervousness, but anxiety can negatively affect your sleep apnea treatment. You might dread bedtime because of the interruptions in breathing, which can further make it difficult to fall asleep. Overall, you can fall into a vicious cycle. Thankfully, your holistic dentist can help you breathe better and reduce nervousness.
What are My Treatment Options?
Now, there are several options to treat sleep apnea; however, many patients prefer oral appliance therapy. The custom-fit device is an effective solution for mild-to-moderate forms of the condition. The appliance repositions your lower jaw forward to keep your airway open. When used correctly, it can significantly reduce or eliminate symptoms of sleep apnea, including anxiety.
Besides a traditional oral device, you might be a candidate for an ALF appliance, which advances and expands the mandible for a permanent solution. The comfortable and removable appliance applies gentle pressure to provide a nonsurgical option to enhance the oral structures to keep your airway open.
If you're struggling with the complications of sleep apnea and anxiety, invest in a better quality of life with the help of your dentist.
About Dr. Preetha Thomas
Dr. Preetha Thomas has earned her dental degree and completed many advanced training programs, including a Masters in Orthodontics and Dentofacial Orthopedics. She can treat complex issues, like sleep apnea. If you need sleep apnea therapy, contact our office today for a consultation.
Comments Off on Are Anxiety and Sleep Apnea Connected?
No Comments
No comments yet.
RSS feed for comments on this post.
Sorry, the comment form is closed at this time.