August 19, 2020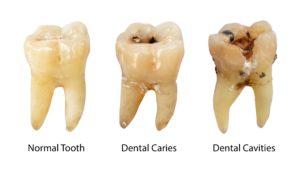 Many people in the dental community support using fluoride to help fight cavities. Often referred to as "Nature's Cavity Fighter," it's said to strengthen the enamel to make it more resistant to decay. While it may be beneficial, there can be too much of a good thing. Your holistic dentist in Southlake offers alternative solutions to achieve a cavity-free smile without having to worry about the dangers of fluoride toxicity.
Risks of Fluoride Toxicity
Fluoride is a naturally occurring substance that can be found all around you; however, the public's exposure to it has significantly increased since it was introduced into water systems in the 1940s. Although you probably don't put much thought into it, you consume fluoride every day, even if you don't drink tap water because it's in the air, foods, soil, clothing, and much more.
It's easy to have too much fluoride in your system and not even know it until you begin showing signs of toxicity, which often appears as fluorosis. This is a condition that causes blemishes of the enamel, like white spots. According to the Centers for Disease Control and Prevention, as much as 23% of Americans have some degree of fluorosis.
Unfortunately, an imperfect smile isn't the only concern of too much fluoride. Instead, research shows it impacts several areas of your body, including the cardiovascular, central, digestive, endocrine, immune, and respiratory systems. In some cases, extreme exposure to fluoride has been linked to Alzheimer's disease, cancers, infertility, and more.
Invest in a Cavity-Free Smile
With tooth decay the leading oral health concern, removing fluoride from your dental care doesn't need to place your smile at risk. Instead, there are several ways you can promote a cavity-free smile without fluoride, including:
Brush your teeth at least twice a day using a soft-bristled toothbrush and a fluoride-free remineralizing toothpaste. Clean all surfaces of your teeth for at least 2 minutes each session.
Use a high-quality dental floss to clean in between each tooth nightly.
If you give in to your sweet tooth, be sure to brush your teeth well afterward.
Drink water instead of juices, sodas, and sports drinks.
Alter your diet to a dairy-free, gluten-free, and sugar-free diet.
Visit your dentist in Southlake at least twice a year for a cleaning and checkup.
Ask your dentist about the benefits of dental sealants.
You can ensure your teeth stay strong and healthy with a proactive approach to combating tooth decay. With the right care at home, a healthy diet, and routine services from your dentist, you can ensure your teeth last for a lifetime.
About Dr. Preetha Thomas
Dr. Preetha Thomas received her DMD degree from the Advanced Standing Program at Harvard School of Dental Medicine. She's completed extensive training in many areas of specialty, including maxillofacial surgery. Although she treats complex issues, Dr. Thomas focuses on prevention to reduce needing an invasive treatment down the road. If you have concerns about fluoride toxicity or preventing tooth decay, contact our office today to speak with a member of our team.
Comments Off on Achieve a Cavity-Free Smile without the Dangers of Fluoride Toxicity
No Comments
No comments yet.
RSS feed for comments on this post.
Sorry, the comment form is closed at this time.