May 13, 2020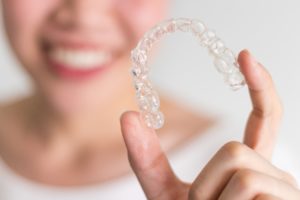 Few people are born with a naturally straight smile. Typically, orthodontic issues are corrected during adolescence, but if you didn't have braces as a child or your teeth have moved from their previous positions, it's easy to feel insecure about your smile. Although you'd like to correct your orthodontic concerns, no one wants to deal with the juvenile appearance of brackets and wires. Did you know there's another solution? Invisalign in Southlake is an FDA-approved treatment to correct a variety of bite and alignment issues using clear braces for a nearly invisible solution.

How Does Invisalign Work?
Research shows 65% of adults don't have well-aligned teeth. Not to mention, about 20% of the population doesn't have the ideal bite. Traditionally, brackets and wires are affixed to the teeth to gradually pull them into position. While metal braces are effective in correcting even the most complex concerns, they are very noticeable. There are also various restrictions that need to be followed.
Invisalign resolves the common complaints of traditional braces. Your cosmetic dentist in Southlake uses digital impressions of your mouth to create a series of clear plastic aligners worn over your teeth for at least 22 hours per day. Each aligner applies continual pressure to gradually move them into their ideal positions. Although every treatment plan differs, most patients are finished with their series in about 12 months.
What Can Invisalign Fix?
1 in 5 orthodontic patients is now over the age of 18, which is largely attributed to less noticeable treatment options, like Invisalign. Although brackets and wires aren't used, clear aligners offer the same amazing results. Invisalign is proven effective to fix several bite and alignment problems, including:
Crowded or rotated teeth
Gaps between front teeth
Spaces between teeth
Overbite
Open bite
Cross bite
Deep bite
You'll need a thorough consultation with your cosmetic dentist to ensure Invisalign is suitable for your needs. They'll create a customized treatment plan to improve your bite and alignment for a healthy, beautiful smile.
What are the Benefits of Invisalign?
Invisalign offers exceptional benefits over metal braces because they are virtually undetectable and aren't attached to your teeth. Overall, you'll enjoy a variety of advantages, including:
Nearly invisible for added confidence.
Custom-fit for added comfort.
Smooth to prevent irritation to the inside of the lips or cheeks.
Removable to enjoy your favorite foods.
Easy oral hygiene routine because there aren't brackets and wires to clean around.
Less time in the dental chair because you don't need adjustments.
Results in as few as 12 months.
Covered under many dental insurances.
Choose the Clear Choice
If you're ready to invest in your self-esteem, it's time to see if you're a candidate for Invisalign. You can achieve a straight smile using the clear choice in orthodontics.
About Dr. Preetha Thomas
Dr. Preetha Thomas earned her dental degree and completed clinical training in maxillofacial oral surgery. She regularly continues her education to provide the latest solutions in dentistry, including orthodontic treatment using Invisalign. Supported by extensive training and memberships in various dental organizations, you can rest assured your smile is in good hands. Contact our office today to see if you're a candidate for Invisalign.
Comments Off on Invisalign Can Help Your Smile
No Comments
No comments yet.
RSS feed for comments on this post.
Sorry, the comment form is closed at this time.