March 25, 2020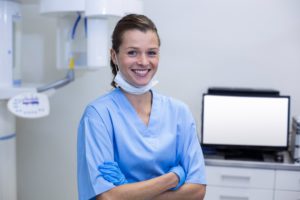 Impressions are widely used in a variety of dental applications to get the precise measurements necessary to establish customized treatment plans. Although the traditional method is effective for creating crowns, veneers, aligners, and other treatments, it's not without its disadvantages. No one likes to hold a messy, foul-tasting material in their mouth. Now, you can skip the sticky mess. Your family dentist in Southlake can get the highly detailed information they need with iTero digital impressions.

Traditional Impressions VS iTero Impressions
A traditional dental impression relies on a putty material being placed in the mouth for several minutes to allow it to harden. It begins with a lengthy process to prepare the mold. You'll then need to bite onto it for the impression to be captured. This can be difficult for people who have damaged teeth, jaw pain, or a strong gag reflex. Not to mention, it's common for there to be errors, causing multiple impressions to be needed.
iTero is a more advanced solution with a higher degree of precision using digital technology. There's no need for sticky impression material. Instead, cutting-edge technology is used to create a computer-generated replica of your hard and soft tissues using scanning devices. Your dentist in Southlake will have nearly instant images of your mouth to view on a large screen. They can be manipulated to see every angle and detail.
This nearly eliminates any room for error while also enhancing your comfort. There's no need to worry about air bubbles, improper settings and distortions, or other defects that can make a traditional impression void. Overall, iTero provides a seamless step in the treatment process to enjoy more accurate restorations without the hassle.
Benefits of iTero Impressions
When compared to the traditional impression process, iTero offers several advantages, including:
Improved image quality and accuracy.
Less time in the dental chair.
No need for a messy impression material.
More comfortable.
No jaw or dental discomfort.
Stored electronically for easy reference.
Eco-friendly.
Quick results.
Applications for iTero Impressions
The impression system can be used to replicate both hard and soft tissues. This makes it suitable to aid many treatments, including:
Dental crowns
Bridges
Inlays
Onlays
Veneers
Dental implants
Invisalign
Choose Cutting-Edge Technology
You deserve nothing but the best when it comes to your dental care. You can benefit from state-of-the-art technology when needing a dental impression. iTero revolutionizes the impression process to save time, eliminate error, and enhance your comfort. Experience the difference with a modern dental practice.
About Dr. Preetha Thomas
Dr. Preetha Thomas earned her DMD degree from the Advanced Standing Program at Harvard School of Dental Medicine. She's completed advanced training in many areas of specialty, including dental surgery and dentofacial orthopedics. She regularly completes continuing education courses and embraces the latest technologies to provide her patients with superior services. If you're ready to add elite technology and exceptional qualifications to your dental care, contact our office today for an appointment.
Comments Off on No More Gooey Impressions with iTero
No Comments
No comments yet.
RSS feed for comments on this post.
Sorry, the comment form is closed at this time.