February 12, 2020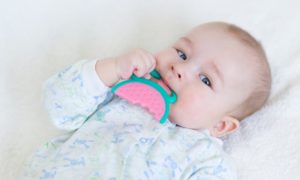 After weeks of teething, nothing is more exciting than seeing your child's first tooth emerge from their gum tissue. As the next couple of years pass, your child will eventually have 20 primary teeth. They will act as placeholders for their adult teeth until it's their time to fall out and a whole new set will erupt. When it's all said and done, they should have all their permanent teeth by the age of 21. Often, it's believed children get their teeth and lose them like clockwork, but this isn't true for everyone. If it's taking a bit longer than expected, it's normal to be a little concerned. Your family dentist in Southlake has everything you can expect during your child's oral development.

Your Child's Primary Teeth
The teeth are necessary for more than just a beautiful smile. They are also responsible for speaking and chewing. As each tooth erupts, your child will learn the oral functions they need to thrive. Around the age of 6 months, you should start to see their first tooth poke through the gum tissue. Over the next couple of years, here's when you can expect to see as their baby teeth emerge:
Central Incisors: 6-12 months.
Lateral Incisors: 9-16 months.
Canine: 16-23 months.
First Molar: 13-19 months.
Second Molar: 23-33 months
Although the baby teeth eventually fall out, it's important they stay healthy while they are in place. You can expect to see their first loose tooth around the age of 6.
Your Child's Permanent Teeth
Although you can never fully predict when your child will lose their first tooth, there are some signs it's coming. Around the age of 4, the jaw and facial bones grow, which creates spaces between their primary teeth to make room for their larger permanent ones.
Between the ages of 6 to 12, your child's baby teeth will be replaced with adult ones, usually in the same order they received them. If it takes a while for a tooth to fall out, you might be tempted to try the "floss and doorknob" trick to pop it out, but this is never a good idea. Forcing a tooth out too soon can cause damage to their oral tissues. Not to mention, it can create complications with their permanent teeth and development. Instead, it's better to contact your dentist in Southlake if you have any concerns.
Invest in a Healthy Smile
Through all stages of oral development, encourage the right oral hygiene habits to ensure both their primary and adult teeth stay healthy. Don't forget to schedule a cleaning and checkup with their dentist at least twice a year.
About Dr. Preetha Thomas
Dr. Preetha Thomas underwent advanced training in maxillofacial oral surgery. She is specially trained in the oral health and development of patients of all ages, including children. If you need a family dentist to care for everyone in your home, choose the personalized, natural approach with Dr. Thomas. Contact our office today to schedule an appointment.
Comments Off on When Will My Child Get Their Baby Teeth?
No Comments
No comments yet.
RSS feed for comments on this post.
Sorry, the comment form is closed at this time.