November 27, 2019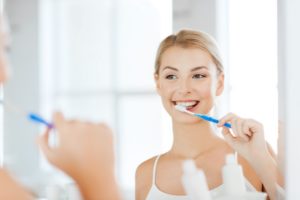 Although you can prevent tooth decay, it remains the biggest threat to your oral health. Modern dentistry relies heavily on fluoride to encourage strong, cavity-resistant enamel. Since the 1940s, it has been added to U.S. water supplies because of its oral health benefits; however, there are now mounting questions about the safety of fluoride.  Among the various concerns is the connection between fluoride and cancer. You can skip the risks and continue to protect your enamel using 5 fluoride-free alternatives recommended by your holistic dentist in Southlake.

Best Natural Alternatives to Fluoride
Many dentists support fluoride because evidence indicates it's effective in significantly reducing tooth decay, especially for children. Despite the benefits, fluoride is a known endocrine disruptor and some studies show it may even be a neurotoxin. Thankfully, there are several natural alternatives you can use, such as:
Neem
Neem is a natural herb used for various traditions, but it can also improve your oral health. One study compared neem to a common plaque-reducing dental product, which it significantly outperformed. You can use neem leaf extract at home to help combat plaque that can lead to gingivitis and tooth decay.
Coconut Oil
Coconut oil isn't just great for cooking. It also offers various health benefits because it has antibacterial properties. You can use it as a toothpaste to slow the growth of harmful bacteria that can cause cavities. Overall, it can drastically reduce oral plaque to keep both your teeth and gums healthy.
Ozonated Olive Oil
Olive oil is well-known for its moisturizing benefits, but it also neutralizes harmful organisms. Ozone is bubbled into the olive oil, which allows it to decrease harmful bacteria. Not only can you use it at home as an alternative to a fluoride toothpaste, but your dentist in Southlake can use it for dental ozone therapy, too.
Oregano Oil
Your favorite Italian dish is perfectly seasoned with oregano, but it offers more advantages than just a tasty meal. The herb's oil can also promote a healthy smile. Research shows it's beneficial for treating several issues, such as toothaches, abscesses, and mouth sores. Using it as a mouthwash after brushing your teeth can kill harmful bacteria that can lead to decay or an infection.
Myrrh
Myrrh is a supplement that's often used to treat periodontal disease because it significantly reduces oral bacteria. This also makes it effective for treating the source of bad breath and limiting cavity-causing bacteria.
Get a Cavity-Free Smile
You don't need to turn to fluoride to protect your family's smiles from decay. There are many natural alternatives to help reduce cavities. When combined with the right oral hygiene habits at home and routine care from your dentist, you can invest cavity-free smiles that last.
About Dr. Preetha Thomas
Dr. Preetha Thomas earned her DMD from the Advanced Standing Program at Harvard School of Dental Medicine in Boston. She strives to provide her patients with personalized, biocompatible solutions. She offers holistic approaches to promote a healthy mouth and body. If you're interested in learning more about fluoride-free options, contact our office today.
Comments Off on 5 Natural Alternative to Fluoride
No Comments
No comments yet.
RSS feed for comments on this post.
Sorry, the comment form is closed at this time.