November 6, 2019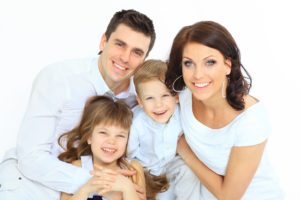 As you prepare for the upcoming festivities during the holiday season, there's another big day that doesn't involve turkey or gifts. Instead, you have the perfect opportunity to invest in a healthy smile by scheduling an appointment with your holistic dentist in Southlake. November 28, 2019 is National Family History Day, which encourages you to review your medical history with your healthcare provider. You should also take the time to discuss it with your dentist because genetics can play a role in the health of your smile. Your dentist can use your family history to establish a personalized treatment plan to reach your dental goals.

National Family Health History Day
In 2004, the U.S. Department of Health and Human Services sponsored National Family Health History Day to promote the importance of discussing genetic health problems with your doctor. Sharing your family's health history provides them with invaluable insight into your medical care. This information is equally important for your dentist because there are several genetic factors that can influence the health of your smile.
Genetics and Your Dental Health
Unfortunately, you can get more than just your hair and eye color from your parents. You may also inherit certain dental issues. There are 4 common hereditary problems that can impact your smile.
Periodontal Disease
The Centers for Disease Control and Prevention estimates at least 50% of adults have a form of gum disease despite it being preventable. In addition, as much as 30% of the population is genetically predisposed to it. Early diagnosis and treatment are invaluable for saving your smile.
Tooth Decay
Anyone can develop a cavity, but research has found people who have certain variations of the gene beta-defensin 1 (DEFB1) are more prone to tooth decay. A proactive approach to oral hygiene is essential to ward off decay.
Oral Cancer
Nearly 50,000 Americans are diagnosed with oral cancer annually. Typically, you expect it to mainly occur in smokers. While they have a greater risk than the average person, those who have certain genetic markers are more prone to it as well. It's important to undergo regular oral cancer screenings for early detection.
Misaligned Teeth
The alignment of your teeth isn't just important for a beautiful smile. It also impacts your oral health. When your teeth are out of position, they are harder to clean, increasing your risk of tooth decay and gum disease. You can also suffer uneven wear on your enamel, gum recessions, and disorders of your temporomandibular joint. You can improve the health and appearance of your smile with braces. As an alternative to metal braces, you may be a candidate for clear aligners.
Invest in a Healthy Smile
As you prepare for the upcoming holidays, make sure a trip to your dentist in Southlake is at the top of your priority list. By sharing your dental history, your dentist will have a complete picture of your oral health to help ensure your smile lasts for a lifetime.
About Dr. Preetha Thomas
Dr. Thomas earned her DMD degree from the Advanced Standing Program at Harvard School of Dental Medicine. She has also completed additional training in oral pathology. Dr. Thomas focuses on the mouth and body connection to help her patients achieve optimal well-being. If it's time for your next visit, contact our office today to schedule your appointment.
Comments Off on 4 Genetic Dental Issues to Discuss with Your Dentist
No Comments
No comments yet.
RSS feed for comments on this post.
Sorry, the comment form is closed at this time.