September 11, 2019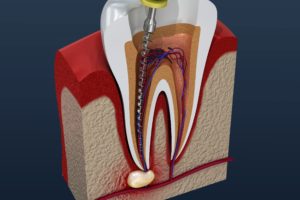 Despite the best oral hygiene habits and routine dental care, a tooth can suffer significant damage over the years, like a large cavity that can turn into an infection. Often, a dentist suggests a root canal to "save" your tooth, but is this really in your best interest? Although the tooth has been treated, now it's essentially dead, which can cause pathogens to enter your bloodstream and lead to several chronic health concerns. Your holistic dentist in Southlake will encourage you to consider all your options to protect your overall health and well-being.

What is a Root Canal?
Root canals are an endodontic procedure used to extract the inner layer of the tooth, called the pulp. This essentially leaves it hollow, so it's filled with a special material called gutta-percha to help strengthen its integrity while also sealing the tooth from bacteria. A customized dental crown is then placed over its entire visible surface to restore its function and appearance.
Although the procedure is only recommended when there are no other viable solutions to save a tooth, it's one of the most common restorative treatments. In fact, 15.1 million root canals are performed annually, but many dentists are now reconsidering the treatment.
How Can a Root Canal Impact My Health?
Many dentists say a root canal saves your tooth, but it also leaves it dead because the pulp is missing, which is a living tissue. Not to mention, your tooth contains tiny tubules that are difficult to fully sterilize despite your dentist's best efforts. As a result, bacteria can be left behind in them that get trapped when the tooth is sealed before the crown is bonded over it.
Now, the bacteria have a dark, moist space to grow and thrive. Since your tooth is still connected to your blood supply via the root, it can introduce pathogens into your bloodstream. Research shows this can lead to several general health concerns, including:
Autoimmune disease
Cancer
Depression
Fibromyalgia
Irritable bowel disease
Musculoskeletal diseases
Should I Get a Root Canal?
Although there are serious risks involved with a root canal, that does not mean they aren't beneficial. They have over a 90% 5-year success rate when performed by a trained and qualified dentist. While it is a common treatment, it's not recommended for everyone.
After an extensive examination, your dentist will determine if it's a viable treatment to save your tooth from extraction, but it is essential to choose the right dentist to ensure it is properly cleaned and sterilized before it is sealed.
The long-term success of the procedure relies on thoroughly removing all bacteria and decay from the tooth. It is best to choose a dentist who uses ozone therapy to sterilize the canals. The tooth is filled with ozonized water, oil, or gel to disinfect it before it's sealed. This is an effective solution for riding harmful bacteria to ensure your tooth is restored back to a healthy state.
Repair Your Tooth Today
If you have a damaged or decayed tooth, your dentist in Southlake offers the solutions you need. After careful consideration, they will determine if a root canal is in your best interest to reinstate a healthy smile.
About Dr. Preetha Thomas
Dr. Preetha Thomas has undergone advanced training in oral pathology to ensure she promotes both the dental and general health of her patients using biocompatible solutions. If you have an infected tooth, she provides the personalized treatments you need. Contact our office today to schedule a consultation.
Comments Off on Root Canals and Chronic Illness: Holistic Dentist Explains the Connection
No Comments
No comments yet.
RSS feed for comments on this post.
Sorry, the comment form is closed at this time.