December 6, 2018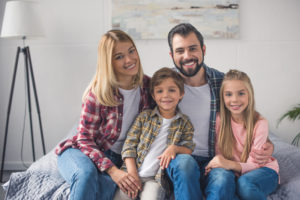 You have a lot of choices when it comes to who will provide your family's dental care. Some dentists offer care specialized for little ones, while others may focus on the cosmetic dentistry services that you or your partner are interested in. As you search, have you considered the benefits that you can experience when you visit a family dentist in Southlake for everyone's smiles? Keep reading to learn about one of the most significant: early detection of gum disease, oral cancer, cavities, and other oral health hazards.
What Is a Family Dentist?
A family dentist is someone who is trained and experienced in caring for smiles of all ages and stages of life. Rather than focusing on one type of dentistry, a family dentist is prepared to provide all the treatments that patients may need over the course of a lifetime. From first checkups and cleanings to complex tooth replacement and everything in between, a family dentist can offer excellent solutions for a lasting, functioning smile.
How Family Dentists Aid in Early Detection
The early detection of oral health hazards is important because it helps your dentist provide the most conservative treatment for cavities, gum disease, and other issues. A family dentist is interested in developing a patient-dentist relationship over the course of several visits and years of care, which makes it possible for them to detect and treat oral health hazards almost as soon as they crop up. Plus, if someone in your family develops an issue like gum disease or something more serious, like oral cancer, having the same dentist will help make sure everyone gets the screening and preventive care they need to prevent these problems if they are at a higher risk.
The Importance of Six Month Checkups and Cleanings
A family dentist will recommend that everyone in your family come in for a checkup and cleaning at least every six months — or perhaps more often if needed. During this visit, your dental hygienist will check for gum disease and thoroughly clean the surface of each tooth. Then, the dentist will perform a tooth-by-tooth examination to detect any oral health issues that may be lurking where you can't see them. In younger patients, that may mean lip/tongue tie or misaligned teeth. For you, it could mean preventing tooth loss or helping you treat chronic bad breath. When you have your smile seen about every six months, any necessary treatment will be simple and quick!
When was your and your loved ones' last visit to the dentist? Even if it's been a while, it's never too late to get back on track. Don't wait to get in touch with your family dentist this month!
Meet the Dentist
Dr. Preetha Thomas is a family dentist in Southlake practicing high-quality dental care for patients of all ages. She invites the whole family into her state-of-the-art office! To book a visit for you and your crew, please give Dr. Thomas a call at 817-803-5816.
Comments Off on How Visiting a Family Dentist Aids in Early Detection
No Comments
No comments yet.
RSS feed for comments on this post.
Sorry, the comment form is closed at this time.