September 5, 2018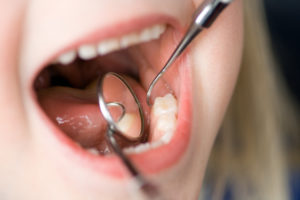 Like all parents, you want the very best for your child — and that involves helping them enjoy a healthy, beautiful smile for a lifetime. Lasting oral health begins during childhood, when important hygiene habits are first instilled. Did you know that routine visits to the dentist should begin around age 1? It may seem early, but getting a head start on dental care is an important aspect of lasting oral health. Keep reading to learn more about children's dentistry (and why it matters) from your family dentist in Southlake.
Prevention Is Key
It's always easier to keep a problem from developing than it is to fix one after it has occurred. A children's dentist firmly believes this, and therefore recommends children visit the dentist with the same regularity as adults — at least twice-annually. Kids are at a higher risk of cavities between the ages of 6 and 14, when their baby teeth are falling out and being replaced by permanent ones. During this time, extra-vigilant hygiene habits are necessary for preventing tooth decay and keeping the smile healthy. Your child's dentist can help with dental sealants and other preventive measures.
What to Expect from a First Dental Visit
It is a good idea for children to visit the dentist for the first time around their first birthday, or when those initial teeth start to erupt through the gum line. This is a good opportunity for the dentist to take a peek around and make sure everything is developing as it should, and for you to ask any questions that you may have about your baby's oral health.
During this initial visit, you can expect the following:
The dentist and hygienist will all take a moment to let your baby warm up to them — taking the slow, careful, and friendly approach that little ones require.
Your baby will sit in your lap while a hygienist does a quick cleaning of their first teeth and gums.
The dentist will take a look at the teeth and gums and ask you relevant questions.
You'll have plenty of time to ask all the questions you have about your child's teeth.
You and baby leave with big smiles and tips for caring for them at home!
Keeping Smiles Healthy at Home
Attending regular visits with your child's dentist is important for keeping your little one's smile healthy, and in addition to these routine appointments, practicing excellent hygiene at home is crucial. Make sure you are cleaning your child's teeth for 2 minutes, twice a day until they are able to do so on their own (usually around age 6). Continue to observe their habits until you are sure that they are cleaning well on their own! If you have some trouble getting your child on board with habitual hygiene, try keeping a progress chart and setting small rewards for loyal cleaning.
This was a quick overview of the importance of children's dentistry. Remember that routine visits to the dentist alongside excellent hygiene are crucial for lasting health for your favorite smile!
Meet the Dentist
Dr. Preetha Thomas is the holistic dentist Southlake trusts for whole-health focused family dental care — starting from age 1 all the way to 101. To learn more about the philosophy behind holistic dental care or to schedule an appointment for your family, you are invited to contact the office at 817-912-1218.
Comments Off on Family Dentist on What Children's Smiles Need
No Comments
No comments yet.
RSS feed for comments on this post.
Sorry, the comment form is closed at this time.