July 18, 2018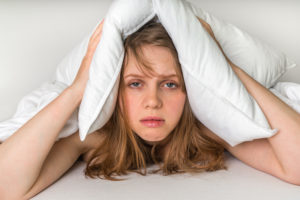 Sleep apnea is a common condition that affects nearly 18 million people in the United States — many of whom do not realize there is a serious problem at the root of their chronic snoring and tossing and turning. The effect sleep apnea has on the brain can be especially worrisome, including memory loss, difficulty completing everyday tasks, and more. Fortunately, seeking sleep apnea treatment in Southlake can help to reverse these problems for better general health.
Your Brain Needs Sleep
Most people would like to get more sleep if they could, and there is a reason we enjoy snoozing so much. It's because the body takes this time to release pent-up stress in order to recharge for the day ahead. And when you can't get enough sleep throughout the night, your vital organs (like the brain) simply don't have the chance to unwind that they need. That can leave you feeling groggy and irritable the next day.
People who have sleep apnea may have their nightly rest interrupted hundreds of times per hour — and that adds up to a lot of lost sleep over time. Some of the most significant ways that a lack of sleep affects the brain include:
Poor cognitive function
Forgetfulness
Slower reaction times
Lack of attention span
Slowed brain activity
And others
Sleep Deprivation in Children
While most people who have sleep apnea are over the age of 55, this condition is increasingly common in younger patients due to the rise in childhood obesity. And unfortunately, lack of proper sleep in children has a serious effect on their overall health and development. Kids who have their nightly rest frequently interrupted due to sleep apnea may have difficulty concentrating at school, exhibit behavior problems, and experience other issues that are caused by poor sleep. Seeking a proper treatment is important for anyone with sleep apnea, but it is especially crucial for young children — since their overall development is at stake.
Seek Sleep Apnea Treatment for a Healthier Brain
There is good news, and it's that your dentist can help you find relief from sleep apnea with oral appliance therapy. This is a small device that is worn during sleep. It repositions the jaw to prevent its collapse and allow you to sleep throughout the night without interruption. Many patients find appropriate relief with oral appliance therapy for sleep apnea.
If you are concerned that you or a loved one are suffering from sleep apnea, don't hesitate to seek a diagnosis and treatment for this exhausting condition. The effects of poor sleep are alarming — especially for the brain. Fortunately, relief may be in sight with oral appliance therapy.  
Meet the Practice
Dr. Preetha Thomas and the team at Enclave Dental offer comprehensive dentistry services, including sleep apnea treatment, from the comfort of their holistic dental practice. To learn more about this condition or to schedule an appointment to find relief at long last, you are invited to contact your family dentist in Southlake at 817-912-1218.  
Comments Off on How Sleep Apnea in Southlake Can Affect Your Brain
No Comments
No comments yet.
RSS feed for comments on this post.
Sorry, the comment form is closed at this time.