July 3, 2018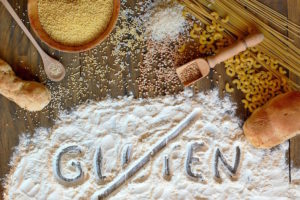 Gluten is a common protein found in wheat, barley, rye, and triticale (a cross between barley and rye). People who have celiac disease must stay away from gluten to avoid symptoms like inflammation, digestive issues, and other problems stemming from the protein. People who do not have celiac disease may also want to stay away from gluten to enjoy a number of health benefits — including more energy, weight loss, and better overall health.
No matter what your motivations for doing so are, eliminating gluten from your diet will alter the amount of vitamins and nutrients you receive. If you're not careful, it could leave you needing certain important elements. Your holistic dentist in Southlake provides tips for living gluten-free safely and healthily below.
How to Live Gluten-Free (And Love It)
Once you decide to eliminate gluten from your diet, you will likely notice that the protein is in just about everything processed that you buy off the grocery store shelves. Fortunately, fresh fruits and vegetables and many other unprocessed items are totally ok to consume and in fact are important aspects of every gluten-free diet. You may need to gradually transition into a gluten-free lifestyle for the greatest success.
A nutritious gluten-free diet will include an abundance of the following items:
Fresh fruits and vegetables
Beans, seeds, and nuts
Eggs
Low-fat dairy products
Lean meats
Quinoa
Rice
Tapioca
Special "gluten free" items that you can find at the grocery store
What to Watch Out for
You will need to start looking carefully at the ingredients list of what you consume to ensure that you stay away from gluten. Durum, einkorn, emmer, and spelt are all different types of wheat flour, so pay special attention to these words. Additionally, you should stay away from enriched flour and self-rising flour. The only naturally occurring gluten-free flours are rice, soy, corn, potato, and bean.
Some other popular items that won't fit into a gluten-free diet include:
Beer
Pasta
Pizza
French fries
Potato chips
Cereal
Bread
Cakes
Cookies
Ice cream containing cookies, cake, etc.
Salad dressing
Soy sauce
And others
Adjusting to a Gluten-Free Life
If you're committed to eliminating gluten from your diet, you will need to have the support from those closest to you. Talk to your partner or family about why you have made the decision to forgo gluten. Remind them that this is important to you and why you would like to have their support.
You may have to frequently remind yourself of what you can eat with a gluten-free diet at first, but after awhile it will be second nature. And chances are excellent that you'll feel better overall as a result!
Meet the Dentist
Dr. Preetha Thomas is a Southlake holistic dentist offering whole-health focused dental care from the comfort of a state-of-the-art office. If you would like to further discuss the benefits of a gluten-free diet or to schedule an appointment for her general, restorative, or cosmetic dentistry services, you are invited to contact the office at 817-912-1218.
Comments Off on Here's Your Holistic Dentist in Southlake's Take on Gluten
No Comments
No comments yet.
RSS feed for comments on this post.
Sorry, the comment form is closed at this time.