May 2, 2018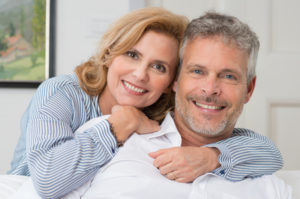 Are you missing or on the brink of losing one, two, or several teeth? Some people make the mistake of delaying replacement — especially for back teeth. You can't see the gaps anyway, right? Well, you may not know that not replacing those teeth can take a serious toll on your oral and overall health. Dental implants in Southlake offer a wonderful option for many patients. We've got more on the effects of tooth loss and how dental implants can help below!
Bone Loss
Perhaps the most significant side effect of missing teeth is that it results in the loss of jaw bone tissue as well. This degeneration can cause the jaw to shrink and decreases facial volume, which can make you look older than you really are. What's more, any healthy natural teeth that still remain are at an increased risk of falling out, too, as their sturdy foundation is gradually lost. In this way, losing a single missing tooth — no matter where in the jaw it is located — can put your overall smile at-risk of the same fate.
Drifting Teeth
When you have a gap in your teeth, the ones that are left behind are likely to slowly drift out of position to fill in the empty space. Aside from affecting the way your smile looks, this movement can cause orthodontic issues that may need to be fixed with braces. The effect is even greater when several teeth are missing.
TMJ Issues
Tooth loss throws the alignment of your bite out of whack, which can put stress on the TMJ, or jaw joint. You may experience a clicking, popping jaw, have difficulty opening your mouth fully, or other symptoms of TMJ/TMD.
Difficulty Eating
Of course, without a full set of teeth, it can be a challenge to eat a balanced diet full of all the nutritious foods you love — like fresh, crunchy fruits and vegetables. Patients who do not seek a sturdy tooth replacement promptly after loss may suffer from poor nutrition simply because it is difficult or uncomfortable to eat well. This can result in larger problems with overall health, especially for aging patients.
Ceramic Dental Implants Can Help
How can you avoid bone loss, drifting teeth, and difficulty eating after tooth loss? By selecting a sturdy tooth replacement — like dental implants. Ceramic implants are made from completely non-metal materials, which means you can enjoy a sturdy set of teeth that will promote better oral and overall health without introducing anything you don't want (i.e. harmful metals) into your body.
Dental implants replace the missing tooth's supportive root structure as well as the visible dental crown that you use to eat, speak, and smile. It's as close as you can get to the tooth you were born with — and with proper care and maintenance, dental implants can last for decades.
Patients who are not eligible for dental implants can still benefit from tooth replacement with a holistic approach, including with a fixed bridge or non-metal partial/complete denture. If you are interested in discussing your options in tooth replacement, don't hesitate to get in touch with your holistic dentist in Southlake!
Meet Dr. Preetha Thomas
Dr. Preetha Thomas provides patients of Enclave Dental with whole-health focused, holistic dental care. From general checkups and cleanings to high-quality tooth replacement with dental implants, bridges, or partials, it's exceptional dentistry focused on your overall wellbeing. To learn more, we invite you to schedule an appointment by calling 817-912-1218 today!
Comments Off on Think You Can Wait to Replace Missing Teeth? Think Again.
No Comments
No comments yet.
RSS feed for comments on this post.
Sorry, the comment form is closed at this time.