February 13, 2018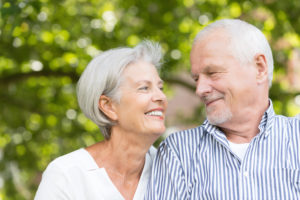 Your teeth and gums play an integral role in your overall health, and people who have a complete, healthy smile are more likely to enjoy better systematic wellbeing, too. Rather than treating your mouth as though it exists in a vacuum, holistic dentistry concentrates on the picture of your whole health. Therefore, certain procedures will look a little different from a holistic dentist in accordance with this philosophy. Ceramic dental implants are one example. They offer an alternative, metal-free treatment option that is kind to your oral health AND your overall wellbeing. Keep reading to learn more about why, and whether or not you are a great candidate for this metal-free option.
About Dental Implants
Dental implants are the only tooth replacement method that provides a truly comprehensive solution for missing teeth. An implant is a small post that is surgically placed into the space where the missing tooth's root once was. Here, it provides a sturdy replacement for the crown, bridge, or denture that is affixed on top. Dental implants stabilize the jawbone, restoring your ability to eat, speak, and smile with confidence while also promoting better oral and overall health for a lifetime.
Why Holistic Dentists Love Ceramic Dental Implants
Most dental implants are made of titanium, a material that is known to promote the growth of bone tissue to help the implant posts fuse together with your jaw bone. But what about patients who are concerned about the use of metal in dentistry? Or those who need or simply prefer a metal-free option? Dr. Thomas is pleased to offer biocompatible ceramic dental implants as a successful alternative.
Ceramic dental implants are a good option for adult patients who need a special approach for a thin gingival biotype (when there is less room between the tooth's root and the gum's surface) or for those who want to keep metals out of their bodies.
The benefits of ceramic implants are significant, and including the following:
Ceramic is a biocompatible material that your body accepts without any adverse long-term effects that could occur with metal/titanium implants.
Ceramic dental implants look natural for patients concerned about the potential visibility of metal dental implants.
Just like with titanium implants, the ceramic material promotes the growth of bone tissue for a stable replacement.
Ceramic implants can last as long as traditional titanium dental implants.
Your ability to smile with confidence is fully restored — for a lifetime to come!
Candidates for Ceramic Dental Implants
Dental implants are the premier option for tooth replacement, and many patients are eligible for the procedure. Biocompatible, metal-free ceramic dental implants open the procedure up to even more people. Partnering with a holistic dentist can ensure that you receive care that is good for your overall health — skilled, comfortable, and always dedicated to your overall well-being.
About the Dentist
Dr. Preetha Thomas is a holistic dentist providing whole-health focused dentistry for friends and families in Southlake. To learn more about ceramic dental implants or any of her restorative solutions, you are invited to contact Enclave Dental at 817-912-1218.
Comments Off on A Lot to Love About Ceramic Dental Implants
No Comments
No comments yet.
RSS feed for comments on this post.
Sorry, the comment form is closed at this time.