December 5, 2017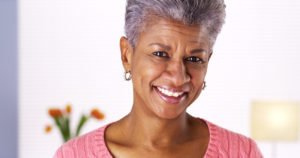 Wisdom and experience aren't the only things that come with age. Once you reach the age of 50 or so, you will start to notice a number of changes — and that extends to your oral health, too. Older people are at a higher risk of a number of issues, from cavities to dry mouth and gum disease. Visiting your family dentist in Southlake can help to protect your smile from these and other issues to keep your teeth clean and healthy for the years to come.
Increased Risk of Cavities
People past a certain age are at a higher risk of a special kind of tooth decay that occurs on the tooth's root. That's because gum recession, which is common in older patients, may leave the root exposed to the acids and bacteria that cause decay. And if the root softens with age, it is less able to guard itself against the bacteria.
What's more, fillings and crowns from decades ago may start to show signs of trouble in older age. A leaking or broken restoration can lead to more decay and may result in the loss of the tooth if the issue is not detected early.
Dry Mouth
Older adults are also at a higher risk of experiencing dry mouth, as it is a common side effect of many prescription medications. Having plenty of saliva is crucial for a healthy smile — this fluid washes away the acids and bacteria that cause plaque and tartar buildup to keep teeth clean. People who have dry mouth are likely to struggle with bad breath and are at a higher risk of developing cavities and gum disease as well.
Drinking plenty of water, chewing sugar free gum, and/or seeking alternatives to the medicine causing dry mouth can combat the issue for a healthier smile.
Oral Cancer
There are also diseases to consider. Oral cancer is cancer of the cheeks, tongue, lips, or hard/soft palates, and the risk of this disease is greater in people over the age of 55. Other risk factors for oral cancer include tobacco use, alcohol consumption (especially combined with tobacco), prolonged exposure to UV light, and a family history of cancer.
Because early detection can greatly aid in successful treatment and outcomes following diagnosis, older adults should have at least one oral cancer screening per year.
Take Extra Care of Your Smile
What's to glean from all of this information? Prevention matters. Preventive dental care is important for smiles of all ages, but it's especially crucial as we age. Your dentist can help you stop cavities and other issues before they start — but only if you do your part. Don't fall behind on your routine appointments! Ask how often you should come in for care to avoid gum disease, cavities, and other problems.
About the Author
Dr. Preetha Thomas is a trusted provider of comprehensive dental care for friends and neighbors all across DFW. To learn more about holistic dentistry, or to schedule a visit with your dentist in Southlake, we invite you to contact Enclave Dental at 817-912-1218.
Comments Off on Family Dentist in Southlake on How Smiles Change with Age
No Comments
No comments yet.
RSS feed for comments on this post.
Sorry, the comment form is closed at this time.