January 7, 2016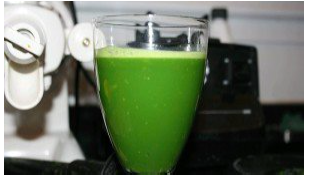 One of the fun things Dr. Thomas does at home and recommends for her staff and patients is the Chlorella Cocktail.

Ingredients:

1 Tbs of powdered Chlorella
1 Tbs of Barlean's Fish Oil
2 Caps of Freeze Dried Garlic
2 Drops of Cilantro Liquid
Hand full of fruit of your choice.
Instructions

Wash your fruit. Opt for organic as much as possible to avoid more toxins entering your body.
Add all ingredients to your blender and process until smooth. Drink this detox juice recipe once a day for 1 to 2 weeks to fully cleanse your body from heavy metals.
**Dr. Thomas recommends that patients get in touch with their physician who is helping them with their detox . If they do not have a current physician, and would like to do some precautionary methods, this recipe can go hand in hand with the Amalgam Removal Procedure.
Comments Off on Chlorella Cocktail: A Simple Detox
No Comments
No comments yet.
RSS feed for comments on this post.
Sorry, the comment form is closed at this time.