August 21, 2019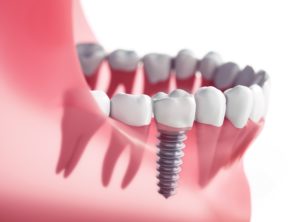 If you have one or more missing teeth, you can join over 500,000 Americans each year who rebuild their smile using the most reliable dental prosthetic. Dental implants replace the entire structure of a tooth, allowing them to offer several benefits that aren't possible using any other treatment. With over a 95% success rate, you can enjoy a solution with the potential to last forever. There are 5 simple tips to follow to ensure your dental implants in Southlake last for several decades.

Tips Dental Implant Success
Although the risk of implant failure is less than 5%, it's best to be proactive to protect your new smile from any potential complications.
Follow Recovery Instructions
Dental implants require a multi-phased treatment process, which includes oral surgery. You're given post-surgery instructions after your posts are placed to minimize any risk of infection while ensuring your jawbone heals correctly. Besides practicing good oral hygiene, it's best to eat soft foods and avoid anything that may injure or irritate the surgical site.
Maintain Your Oral Hygiene at Home
The biggest threat to the long-term viability of dental implants is a preventable infection called peri-implantitis, which can destroy the bone supporting your dental implants. You can reduce your risk of it by practicing good oral hygiene at home. Pay extra attention when cleaning around the abutments and implant posts to remove any trapped food particles or plaque. Many patients have found an oral irrigator to be helpful when cleaning hard to reach places.
Visit Your Dentist Regularly
Although dental implants aren't subject to tooth decay, you should still visit your dentist at least twice a year for a cleaning and checkup. Your dentist in Southlake will keep any remaining natural teeth healthy while also monitoring your dental implants for early warning signs of a complication, such as redness of the gum tissue. Detecting and treating an issue early can prevent complete implant failure to save your smile.
Don't Smoke
Smoking can increase your risk of dental implant failure by 20% because it limits blood flow to the gums, which hinders the healing process. Although it's recommended you stop smoking completely if you want dental implants, if you continue to do so doesn't make you ineligible for the treatment. However, it's best to stop at least 1 week before your implant placement surgery and for at least 2 months after your posts have been placed.
Avoid Damaging Habits
Certain bad habits can place too much strain on dental implants, which can increase the likeliness they fail. It is best to avoid chewing on inedible objects or using your teeth as tools. If you suffer from bruxism, ask your dentist about using a mouthguard to treat the grinding and clenching.
Protect Your New Smile
If you follow your dentist's instructions to maintain your dental implants, you should never need to worry about any complications. Besides the tips above, be sure to eat plenty of calcium-rich foods to ensure your jawbone remains strong and healthy to support your new smile.
About Dr. Preetha Thomas
Dr. Preetha Thomas has completed her dental degree and training in many areas of specialty, including oral pathology and maxillofacial oral surgery. She provides her patients with advanced solutions to treat complex oral health concerns. If you're ready to replace your missing teeth with dental implants, contact our office today to schedule a consultation.
Comments Off on 5 Tips for Successful Dental Implants in Southlake
No Comments
No comments yet.
RSS feed for comments on this post.
Sorry, the comment form is closed at this time.