June 5, 2019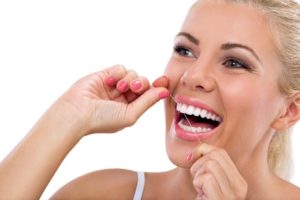 Your toothbrush is your first line of defense against preventable oral health issues, like gum disease. Although it is effective, there are areas it cannot reach. Flossing is the only way to clean the spaces. If you skip flossing, you leave as much as 40% of your teeth's surfaces uncleaned. This significantly increases your risk of gum disease, which affects at least 50% of Americans. Your holistic dentist in Southlake recommends you floss your teeth every day to protect your gum health. Besides traditional dental floss, you could also use a Waterpik. Both are effective, but which one is best?

Waterpik vs. Traditional Floss
Your toothbrush cannot remove food particles, plaque, and tartar from between the teeth. Dental floss is the most common way to remove the buildup. The American Dental Association recommends you floss once a day, preferably at night before going to bed. You can use a standard floss supported by the American Dental Association, or you can use a Waterpik water flosser. Depending on your individual oral health needs, your dentist in Southlake will determine which one is best for you.
Should I Use a Waterpik?
A Waterpik uses a jet of pressurized pulsating water to remove anything left behind by your toothbrush. When used correctly, it can effectively clean between the teeth and under the gum line. A study published in the Journal of Clinical Dentistry found water flossers to reduce plaque by as much as 74%.
It is often recommended for those who have:
Braces
Non-removable bridgework
Crowns
Dental implants
It can also be easier to use than standard floss if you have arthritis or other factors that make it difficult to work with string. This provides you with an easy to use solution to clean hard-to-reach places; however, an oral irrigator costs more than floss.
Should I Use Dental Floss?
Floss is a tired and true method to clean between the teeth and around the gum line. Today, it comes in many different varieties and flavors. It is best to use a high-quality dental floss that has earned the American Dental Association's Seal of Acceptance to clean in between each tooth. It is best to insert it between 2 teeth and form a "C" shape while you slide it down to the gum line and back up to the crown.
Which is Best?
Your dentist will help you make the right choice for your smile. With a proactive approach to your oral hygiene and the right dental products, you can ensure your teeth and gums stay healthy.
About Dr. Preetha Thomas
Dr. Preetha Thomas focuses on prevention to help you achieve optimal well-being. Besides cleaning and checkups, she strives to ensure your home oral hygiene habits are effective. If you have questions about the dental products you use at home, contact our office today.
Comments Off on Waterpik vs. Floss: Holistic Dentist in Southlake Explains Which is Best
No Comments
No comments yet.
RSS feed for comments on this post.
Sorry, the comment form is closed at this time.