March 6, 2019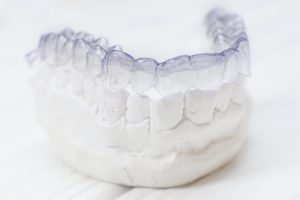 Nothing is more exciting than starting your journey to a straight smile with your cosmetic dentist in Southlake. You have made the choice to move your teeth using a nearly invisible solution with Invisalign. Although you are excited to get started, you are also a little apprehensive. There is no need to worry. Here is what you can expect when receiving your first aligner.

Receiving Your Aligner
Previously, your dentist used digital impressions to map the movement of your teeth using a series of custom-made aligners. To successfully move them, they need to fit correctly. Your dentist will place the aligner in your mouth and check to ensure it stays securely in place.
They will also take the time to explain your treatment plan and answer any questions. You are required to wear the aligner for at least 22 hours per day, only removing it when eating or drinking and caring for your teeth.
It is normal to experience some discomfort as continual pressure is applied to your teeth. Generally, the worst discomfort is felt during the first week. You may experience it for a short time upon switching to the next aligner in the series.
Speaking with your aligner can also be a challenge. You may notice certain words sound slurred, or you have developed a small lisp. This is normal and will not last. With a bit of practice, you will speak clearly and without any concern.
Caring for Your Aligner
Maintaining your oral hygiene when using Invisalign in Southlake is vital. To care for your teeth and gums, you will need to remove the aligner from your mouth. This can take some practice. It is best to use two hands to carefully pop it out of place. Start at one side of your mouth and use your fingertip on the inside of your back molar to pull the aligner down slowly. Repeat this for the other side of your mouth until the aligner is removed.
After brushing and flossing your teeth, take the time to clean your aligner with a soft-bristled toothbrush and clear antibacterial soap. Once it is clean, make sure you have the correct aligner for your upper or lower teeth and insert it back into your mouth. Push it over the front of your teeth and apply equal pressure with your fingertips until it snaps over your molars. Never bite the aligner to push it into place.
Protect Your New Smile
There will be a slight adjustment period after receiving your new aligner, but in no time at all, you will not tell it is in place. You will enjoy a comfortable, discreet, and convenient solution to achieve a healthy, straight smile.
About Dr. Preetha Thomas
Dr. Preetha Thomas strives to provide her patients with the latest solutions to achieve confident, healthy smiles. Besides general dentistry, she also offers orthodontics with Invisalign. If you are interested in correcting your bite and alignment concerns, contact Enclave Dental today to schedule your consultation.
Comments Off on Cosmetic Dentist in Southlake Explains What to Expect with Your 1st Aligner
No Comments
No comments yet.
RSS feed for comments on this post.
Sorry, the comment form is closed at this time.