February 20, 2019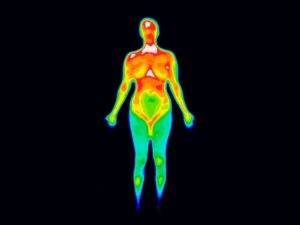 Thermography is an innovative technology that detects heat patterns and blood flow within your body using an infrared camera. It is often thought as an alternative to other scanning machines, like an x-ray or an MRI; however, the thermal imaging provides different information to detect certain issues, like inflammation or infection. Your physician uses the data to pinpoint areas of concerns. Your holistic dentist in Southlake can also read the charts to determine how specific factors can impact your oral health.

What is Thermography?
Thermography, also known as medical infrared imaging, uses special cameras sensitive to electromagnetic energy and infrared wavelengths to create an image. The high-resolution cameras integrate with advanced computer software to produce a topographic heat map to establish a visual representation of your body.
Unlike other imaging tests, thermography does not use radiation or require intravenous access. The scan is completely safe and painless. With the FDA's approval, it can be used in conjunction with other scans, like an x-ray or MRI, to establish physiological information that cannot be obtained using other methods.
How Can Thermography Help Me?
Thermography can detect the first signs of inflammation, such as what is present with degenerative diseases like cancer, arthritis, diabetes, and heart disease. In fact, the imaging can detect cancer indicators 8 to 10 years sooner than any other standard detection test. With the early discovery, many of these conditions can be prevented.
When choosing thermography, you will enjoy:
Non-invasive and no-touch for your comfort.
Safe because it does not emit radiation.
97% accurate results.
Early detection of inflammatory conditions.
Can be used to scan a single area or the whole body.
What Can I Expect?
The scan is conducted in a private room with temperature control settings to minimize any room for error in the test results. The thermal imaging camera takes pictures of the body at different angles and positions. Depending on the size of the area scanned, you can expect the process to take about 45 minutes. There are no side effects, downtime, or recovery process.
Your images are placed into a report for your physician to review. You can also take the scans to your dentist in Southlake to read to determine how the results may influence your oral health.
Thermography and Your Oral Health
Your dentist will have a deeper insight into your oral health using the scans, such as detecting undiagnosed bruxism. The scans can show inflammation around specific teeth from the grinding or clenching, indicating you may need a nightguard while you sleep. Thermography can also show several other issues, such as bacteria that may indicate a dead tooth root, the early stages of gum disease, or oral cancer.
With a complete picture of your general health, your dentist can create a customized treatment plan to help you achieve optimal oral and overall well-being.
About Dr. Preetha Thomas
Dr. Preetha Thomas is a trusted holistic dentist in the community who has completed advanced training in oral pathology. She can read your thermography charts to promote your dental health. Contact Enclave Dental today to schedule an appointment.
Comments Off on Promote Your Oral Health with Thermography and Your Holistic Dentist in Southlake
No Comments
No comments yet.
RSS feed for comments on this post.
Sorry, the comment form is closed at this time.