May 16, 2016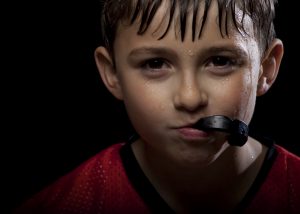 When you brush and floss your teeth at night and in the morning, you are helping to protect your teeth against the dangers of tooth decay and gum disease. But what do you do to protect your teeth against the dangers of physical injury? Whether caused by bruxism (teeth grinding and clenching) or impact during athletic play, an injury to one of your teeth can be very serious and damaging to your smile as well as your oral health. With mouth guards, Southlake residents can prevent possible tooth injury. Read on to find out how Dr. Thomas at Enclave Dental can help you preserve your beautiful smile.
Mouth Guards in Southlake
Everyone grinds and clenches their teeth sometimes. This action is often in response to stress—part of the fight or flight system that is hardwired into our brains. Problems can arise, however, when bruxism becomes a nightly habit. More often than not, people who grind their teeth aren't aware of the habit because it happens while they are sleeping. Nevertheless, your teeth can bear the brunt of damage. Teeth may become unnaturally worn, cracks can develop and there may even be gum recession. In addition, bruxism can lead to the painful symptoms of TMD (temporomandibular joint disorder).
To protect your teeth from this nightly attack, Dr. Thomas can prescribe a custom-fitted mouth guard. Made of smooth plastic, this comfortable oral appliance fits in your mouth and keeps your upper and lower teeth from meeting, so they cannot become more worn. A mouth guard also reduces pressure on your teeth should you happen to clench down during sleep.
Customized Sports Guards
Similarly, a sports guard shields your teeth during sports activities. You may have seen the over-the-counter varieties that are available at many sporting goods stores. None of these can offer the protection you'll get from wearing a sports guard designed especially for your teeth and your bite.
By wearing a sports guard you not only protect your teeth from damage, you also reduce the risk of injury to your tongue, cheeks, lips and gums. In addition, there is reliable evidence that shows a sports guard can also limit the risk of concussion or reduce the severity of a concussion should one occur.
Call Our Office Today
If you or another member of your family would benefit from wearing a mouth guard for bruxism or for dental protection during athletics, please schedule an appointment with Dr. Thomas at Enclave Dental in Southlake, TX.
Comments Off on For Custom-Fitted Mouth Guards, Southlake Sees Dr. Thomas
No Comments
No comments yet.
RSS feed for comments on this post.
Sorry, the comment form is closed at this time.