Ringing in the New Year and A New Decade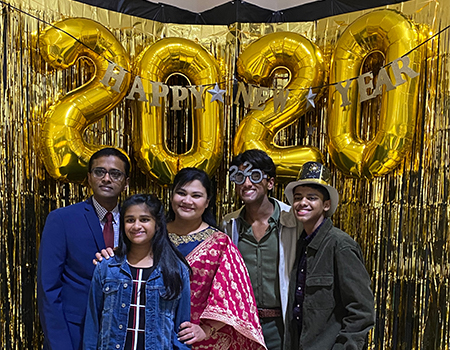 As a dentist, I get to meet people from all walks of life. Because of the nature of our business, they come with dental problems, but this gives me the privilege of knowing them on a deeper level. In many of my patient interactions, I come across people beautiful on the outside and well put together; however, they are broken on the inside. Some patients are financially and physically healthy but never had the opportunity to take care of their dental health.
I have come to learn there are various hidden stories behind the broken and imperfect teeth, like childhood trauma, mothers who never had time to take care of her own dental needs, bad dental experiences, unstable foster home lives, and many other unfortunate situations. These are also stories from others who were neglected or brushed aside in the past. As these stories unfold, I believe the saying "Don't judge a book by its cover" needs to be a motto rather than a cliché.
These stories have been presented many times over in varying degrees during the past decade. It's a sad reality, but despite the advancements in society, we still live in a time where dental health has been sidelined. This has occurred not because of lack of access, but instead by misinformation or absence of information. At Enclave Dental, we are hoping to create change for those who have been unable to get to where they need to be in their dental wellbeing.
There's good news. Our door at Enclave is always open for those who need help. We believe our careers in the dental field are more than just professions but instead a calling highlighted by the meaning of the word Enclave. We are a group of people who are different in character than the mainstream. Our character has been built over the last decade through our interactions and relationships with a network of friends who also share a similar value and vision. This network encompasses a group of people who are seeking and engaged in true healing. They are meshed within our patient base, and they consist of chiropractors, craniosacral therapists, midwives, lactation consultants, Young Living essential oil distributors, homeopaths, naturopaths, and many other who are healers and connected in growing their knowledge of healing.
This year, we would like the opportunity to help those who are looking for a wealth of information through blogs written by healers, who are experts in many of the above listed professions. These professionals are men and women who took the first steps to see change for their own families. Now, they want to share it with those surrounding them and are in need. Our monthly blogs will be written to share their immense knowledge, so they can help us understand what they do, why they do it, and how it will impact your dental and overall health.
The possibility for change is within the grasps of each one of us. The first step is to be willing and accepting of the need for change. I want to ring in the new year by saying, no matter how broken your life may seem, God can do something great with your life and help bring about change. Isaiah 41:10 says, "So do not be afraid, for I am with you; do not be dismayed, for I am your God. I will strengthen you and help you; I will uphold you with my righteous right hand. "
I hope Enclave Dental, along with our network of friends, can encourage the much-needed change for you and your family to make this new year and the coming ones healthy and fulfilling. From our family to yours, we want to wish you all a very happy and prosperous new year.