Homeopathy insights : from one mom to another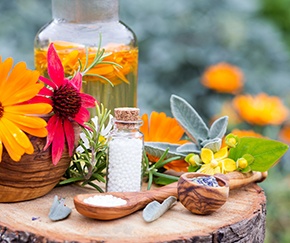 April 2020 – a season for the history books! Who knew when Dr. Thomas started this series that covid-19 would turn our world – and our daily living – upside down?
Many of us have been left feeling isolated and powerless - especially in the areas of routine medical and dental care as our favored practitioners are closed for all but emergency situations.
Friends, we don't have to feel this way! Homeopathy offers family empowerment and a wonderful non-competing aid to our medical providers. This is true in the dental arena, as well!
Dental Homeopathy for the Home
Tooth Pain
First, an urgent situation: Enjoying a family dinner when YOWWWWW - a kiddo howls out in pain. Tooth pain! After a salt water rinse and exam complete with cell phone flash light, you determine a molar shows some decay. This will require a dental visit – but of course, it's Friday night on a holiday weekend – so besides an emergency dental visit, what can be done?
Hekla Lava powder rubbed/brushed into the gum area and actual tooth area and allowed to sit for several minutes. I would do this several times a day.
Wheezal Tooth Powder is what we use, though I have never found this for sale in the US. It is very common in India – so I've ordered several bottles of it online to keep my home medicine cabinet stocked. You, too, should order this now and keep it on hand in the event a need arises! Mom tip: check several websites selling it (probably avoid ebay due to copycat products). I've had the quickest shipping when I've ordered from DistaCart.
Plantago Mother Tincture can be applied to the area for pain management. I've applied it with a sterile cotton swab to my own tooth, but for children, I've often just made a mouth wash in a 1:4 dilution for kiddos to swish swish swish. This should be used as necessary for pain.
Hypericum 200c can be taken orally to help with nerve pain. Give this 2-3 times daily until the dentist can be seen.
Remineralization
Another at-home situation may be the desire to remineralize minor cavities or strengthen places where cavities have gone past the dentin.
In addition to good nutrition, excellent daily oral care, solving root causes like silent reflux, airway issues, parasites, etc, and holistic dental care, homeopathy offers a powerful one-two punch to boost the actual tooth.
The dental protocol I learned from Joette Calabrese for these issues is Calc Phos 3x + Calc Fluor 12x + Silica 6x to be given twice daily. (Remedies to be taken at the same time.)
Unless you are able to order from OHM Pharma with a student or practitioner account, you'll likely have a hard time finding those particular potencies. What can you do then? I would modify the protocol slightly and use cell salts Calc Phos 6x + Calc Fluor 6x + Silica 6x twice daily. These are also available locally at health stores (except Whole Foods) or directly from Hylands.
Frenectomy
The final way of using homeopathy at home I'd like to mention is pain management for frenectomies. Whether an infant or older kiddo, homeopathy is relatively safe to be utilized.
Starting with a clean dropper bottle filled with filtered water, I add the following remedies to dissolve into the water:
Arnica 200c, Belladonna 30c, Chamomilla 200c, Hypericum 200c After a gentle shake of the bottle, I give a few drops into the mouth following each set of exercises. (Since there is no preservative in this concoction, I keep it in the refrigerator.¬)
Homeopathy for the Dental Office
Anxiety
Knowing an upcoming visit is scheduled may induce anxiety. The premiere homeopathic remedy for this situation is Gelsemium. Use it in either a 30c or a 200c every time you experience anticipatory anxiety. I've even used this in the waiting room at the dentist's office!
Once your child (or you) is in the dental chair, I've even asked Dr. Thomas to pause work and placed a few drops of Bach's Rescue Remedy just inside the mouth for distress.
Dental Work
For times when a filling or other work is needed, homeopathy helps the body prepare and heal. Arnica 200c given the morning of a procedure helps the body insulate against oncoming trauma. Following work, Arnica 200c alternating with Hypericum 200c 2-3 times daily for a couple of days and may even replace the need for other pain medications!
Infection
While many homeopathic approaches exist for a dental infection, I'll mention one that can be utilized in a virgin tooth where a conventional dentist may suggest antibiotics. Hepar Sulph 6c given twice daily can aid the body in pushing infection out. The best part? This compliments ozone and other biologic practices very well! (For more involved infections, seek the help of a professional homeopath.)
Dispensing Remedies
As a general rule, when you are giving homeopathic medicines:
Require a clean mouth (as in the child should not have food tucked inside his cheek)
Avoid handling the remedies. Dispense the medicine into the lid of the container and then empty the container into the mouth.
Unless remedies are to be mixed together (indicated in this blog with a '+' sign, take remedies at least 5 minutes apart from other remedies.
Very strong smells like peppermint or eucalyptus essential oils can possibly antidote homeopathic remedies. While this is unlikely, I recommend taking remedies at least 15 minutes away from using mint toothpaste or drinking a mint tea.
There you have it, Friends: empowerment in a tiny tablet. Be it covid, holidays, middle of the night emergencies, or general care, homeopathy offers a gentle complement to our ongoing wellness pursuits.
To learn more about specific issues homeopathy may aid, check out Joette Calabrese and The Dental Prescriber.
To learn more from this mama about the basics of homeopathy at home use, sign up for her next Gateway to Homeopathy study course. Click here to Sign Up